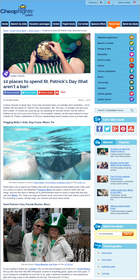 Cheapflights.com blog post on 10 places to spend St. Patrick's Day that aren't a bar featuring less common St. Paddy's celebrations to fill your wanderlusting hearts instead of just your beer belly.
BOSTON, MA--(Marketwired - Mar 1, 2016) -  Everyone's Irish on St. Patrick's Day, they say, but not everyone has to end up passed out on a barstool. Why not embrace the holiday this year by doing more than clutching a pint glass. As we prepare to don our green bowler hats, the travel experts at Cheapflights.com, the online leader in finding and publishing travel deals, have gathered a list of 10 places to spend St. Patrick's Day that aren't a bar with some of the world's funkiest celebrations, alcohol optional.
Check out these five St. Patrick's alternatives for great spots to raise a glass (or not):
Flogging Molly's Salty Dog Cruise - What better way to spend your holiday than with an Irish-American band singing some Celtic punk on a cruise en route to the Bahamas? Flogging Molly has made a name for itself with rock songs, and now the band is dishing out its pirate-themed tunes on board a cruise ship that sets sail from Miami, Fla. Grab your clogs and beach towel, and head to the dock where a boat full of fun (including a casino, driving range, live concerts and much more) awaits.


Annual St. Patrick's Day Dog Show, Dublin, Ireland - This event definitely won't leave you feeling as "ruff" as a night out drinking. If you're where you should be on St. Patrick's Day (read: Ireland), head over to this dog expo. Look out for the dancing dog display, waggiest tail competition, best trick award and even face painting. We can only imagine there might be some dogs in festive green hats, which makes the trip worth it in our book.


St. Patrick's Day Parade, Boston, Mass. - If you're going to check out a parade, why not the second-largest one in the U.S.? South Boston fills up with more than 600,000 enthusiasts covered in everything green, green and more green. If you're looking for something fun and free to do, grab a shamrock headband or some leprechaun garb and snag a spot on the sidelines for the day. The best part? It's free.


A Fake Irish Wake, New Dublin, Wis. - This very bizarre event at the St. Patrick's Day parade in Wisconsin started as a joke and ended up becoming a tradition. Finnegan, a department store mannequin, is taken through the parade in a casket. The story of why or how this event began is unclear, but it definitely caught our attention. This year's parade theme is all about hats, so make sure you bring your funkiest shamrock headgear.


Spirit of the Irish Ghost Tour, New York, N.Y. - Need a little scare? Go on a special "spirit of the Irish" candlelight ghost tour in "Manhattan's most haunted house." Doors slam, floorboards creak and voices call into the dead of night. Certainly something you want to do sober, but you might need a drink afterward.


These days the entire world seems to celebrate St. Patrick's Day, so you won't need the luck of the Irish to find a party near you. To see more options for celebrating St. Paddy outside a pub, check out Cheapflights.com's complete list of 10 places to spend St. Patrick's Day that aren't a bar at www.cheapflights.com/news/10-st-patricks-day-alternatives-to-bars.
About Cheapflights.com, part of the Momondo Group
Founded in 1996, Cheapflights is a leading global flight comparison and deals publishing platform. It is now a market leader in the UK, U.S., Canada, South Africa, Australia and New Zealand generating over $3 billion in global downstream revenue for its partners as it expands into numerous other territories. More than 120 million users visit its websites and apps each year, receiving more than two billion search results a month from across 900,000 routes. The 10 million strong opt-in subscribers to the Cheapflights newsletter receive the best deals from over 120 travel businesses -- for whom it has driven more than $65 million in revenue this year. Together, the Cheapflights platforms generate enough bookings for its partners to fill a Boeing 747 every five minutes.
In 2011, Cheapflights became part of the privately owned online travel search and inspiration network, Momondo Group.
Follow us on:
Twitter: twitter.com/cheapflights
Facebook: facebook.com/cheapflights
Instagram: instagram.com/cheapflights
Pinterest: pinterest.com/cheapflights
Contact Information:
Contact Information:
Cheapflights.com
Tel: +1 (647) 782-3005
E-mail:
Website: www.cheapflights.com