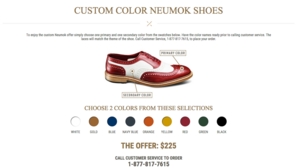 Allen Edmonds gives sports fans a reason to cheer with the launch of their custom wingtip shoe offer.
PORT WASHINGTON, WI--(Marketwired - Mar 3, 2016) - Allen Edmonds Corporation, the U.S. men's dress shoe manufacturer headquartered in Port Washington, Wis., is giving sports fans a reason to cheer with the launch of their custom Neumok offer today. For a limited time only, devoted sports enthusiasts can design shoes in the colors of their favorite team.
"We're big into sports rivalries here at Allen Edmonds, with our shoemakers and headquarters folks in Wisconsin and our stores in great sports towns across the country. That's why we're so excited about our custom Neumok offer," said Allen Edmonds President and CEO Paul Grangaard. "We want fans to remember their feet when showcasing their team spirit this year! Our 'Madness' offer encourages AE Men to support their favorite college and professional teams as we head into basketball and hockey playoffs, and also look to Opening Day of the baseball season. Game on!"
The offer allows fans to personalize a pair of Neumoks -- one of Allen Edmond's signature wingtip oxford styles -- by choosing from a selection of nine different colors. Participants first elect a primary color and finish out their custom order with a secondary color. Rooting for your favorite team never looked so good.
To take advantage of the offer, all fans need to do is select one primary and secondary color and call Allen Edmonds' customer service center at 877-817-7615 to place their order. The custom colored shoes will ship within three weeks of ordering, all for a total of $225. For more details, including color options, visit AllenEdmonds.com/SportsFan.
About Allen Edmonds Shoe Corporation
Founded in 1922, Allen Edmonds Corporation is a privately-held, U.S.-based retailer of premium men's footwear, apparel, leather goods and accessories with a focus on American manufacturing. Allen Edmonds' famous Goodyear welted shoes are handcrafted in Port Washington, Wis. using a 212-step production process. Consistent with the company's heritage, Allen Edmonds remains committed to providing excellent products at exceptional value for style and quality conscious men worldwide. By partnering with like-minded U.S. manufacturers, the company's offering includes men's clothing and accessory needs from head to toe. Allen Edmonds products are available at premier stores worldwide, including 60 company-owned Allen Edmonds stores across the United States, and online at AllenEdmonds.com.
Contact Information:
MEDIA CONTACT
Hayley Formolo
SCC Public Relations

Office: 312.464.1666