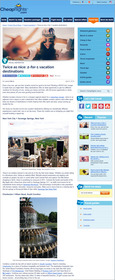 Cheapflights.com blog post Twice as nice: 2-for-1 vacation destinations. Does a buy one, get one free vacation sound too good to be true? Booking a BOGO bon voyage is easier than you think. We chose our favorite spots which offer two dramatically different experiences a quick train, bus or car trip away.
BOSTON, MA--(Marketwired - Apr 6, 2016) - Crack open a map and you'll see what we see: lots of great travel destinations are just a stone's throw away from other intriguing spots, offering an ideal opportunity to get two vacations for the price of one. Some of these perfect pairings require a short flight or train ride, but, within a few hours, you'll be immersed in another completely different and equally cool adventure. The team of travel experts at Cheapflights.com, the online leader in finding and publishing travel deals, have come through with a list of dynamic duos in Twice as nice: 2-for-1 vacation destinations.
Read on for a sampling of places where you can enjoy a change of scenery before heading home:
New York City + Saratoga Springs, New York - There is an endless amount to see and do in the city that never sleeps. Whether you prefer taking in a Broadway show, dining at celebrity-filled, Michelin-starred restaurants and sipping craft cocktails at opulent city bars or would rather stroll Central Park and explore The Met before shopping in SoHo, there is something for everyone in NYC. Contrast the hustle and bustle of the Big Apple with a three-hour drive north to Saratoga Springs, N.Y., an idyllic town known for its summertime horse racing at Saratoga Racetrack. The picturesque countryside is also populated with farmers markets, breweries, museums and parks. Make sure to leave time for a relaxing dip in the hot springs at Roosevelt Baths & Spa within Saratoga Spa State Park.


Charleston + Hilton Head Island, South Carolina - Combine a small city trip with an island vacation in South Carolina. Head to charming Charleston for a dose of Southern hospitality and fantastic food. The destination frequently tops the James Beard Foundation Awards with its long legacy as home to top chefs like chef Jason Stanhope of FIG Restaurant, Chef Robert Stehling of Hominy Grill and Chef Sean Brock of McCrady's. Continue your culinary journey 95 miles south on Hilton Head Island, which boasts 250 restaurants. The tiny island also offers 12 miles of beautiful beaches, 24 golf courses and 350 tennis courses -- all providing days of fun in the sun.


Washington, D.C. + Richmond, Virginia - The U.S. capital is packed with museums, monuments and more. From visiting The White House to strolling the halls of the Smithsonian museums to learning about U.S. history, there are a plethora of options. Then hop a bus or train some 100 miles south to explore Richmond, Va. More than 7 million visitors head to the picturesque region each year to visit numerous Civil War sites, the Virginia Museum of Fine Arts, Henricus Historical Park, the James River, Lewis Ginter Botanical Garden and Kings Dominion amusement park.


Los Angeles + Santa Barbara, California - With more than 300 days of sunshine annually in Los Angeles, Calif., most days are perfect for swimming, surfing and playing beach volleyball. If that's for you, try Santa Monica State Beach or Will Rogers State Beach. While you are there, take time for a stroll on the Santa Monica Pier, a ride on the nine-story Pacific Wheel, a stop at one of the four weekly farmers markets and shopping at Santa Monica Place. Santa Monica is one of the classic California beach town options in the Los Angeles area. Get more glistening coastline in Malibu and Venice or head 15 miles into downtown Los Angeles. The City of Angels is perfect for getting multiple destinations, not only in one trip, but one city. Get even more from your California adventure by renting a car and driving north to Santa Barbara. While the gorgeous coastal city has a lot to offer, counter the busy LA scene with a relaxed West Coast wine tour. While Napa Valley and Sonoma may be the more frequented wine trails, Santa Barbara has an easily accessible and wide-ranging Urban Wine Trail with more than 20 tasting rooms amid a gorgeous, eclectic setting peppered with additional opportunities for art, culture and outdoor fun along the way.


Detroit, Michigan + Toronto, Canada - There are more than 100 galleries at the Detroit Institute of Arts, enough art to fill an entire vacation itinerary, but don't spend all your time in Detroit, Mich. there. Make sure to check out the Charles H. Wright Museum of African American History, which houses the world's largest exhibit on African-American culture, and stroll the lively Greektown neighborhood. After exploring the Motor City, head northeast to Toronto, Canada's largest city, via a four-hour car or train ride. Enjoy dim sum and browse the shops in the second largest Chinatown in North America before heading over to the Hockey Hall of Fame, home of the Stanley Cup. The museum has many interactive exhibits giving guests the chance to compete against animated versions of the sport's greatest goalies, call game play-by-plays, watch 3-D films and see the Stanley Cup up close. If you're not a sports fan, see Toronto from above at the CN Tower, where brave souls can walk along the top of the tower's main pod 1,168 feet above the ground at the EdgeWalk attraction. Want to go to Canada but short on time? Windsor, Canada, a bustling city with plentiful parks, museums and breweries, is just eight minutes away from Detroit.


Seattle, Washington + Vancouver, Canada - Located on the eastern shore of Puget Sound, there is much to see and do in Seattle's 83 square miles. From fabulous family-friendly activities to great restaurants and offshore wineries, Seattle has a lot to offer travelers. Stroll the stalls and get lucky with Rachel the Pig at Pike Place Market, grab a cup of Joe at the original Starbucks and explore Seattle Center, home to some of Seattle's most famous attractions, including the iconic 605-foot Space Needle, Pacific Science Center, Seattle Opera, Pacific Northwest Ballet and Seattle Repertory Theatre. A three-hour drive north (or a slightly longer train ride that hugs the coastline) is Vancouver. Start with a 360-degree view of the bustling seaport city in British Columbia from 547 feet up at the Vancouver Lookout. Afterward, take a stroll through the Dr. Sun Yat-sen Classical Chinese Gardens, an elaborate garden built in 1986 using classic 14th-century methods.


Our other picks for cool combos are Montreal, Canada + Burlington, Vermont; Orlando, Florida + a Caribbean cruise; and Las Vegas, Nevada + the Grand Canyon. To read up on these or see Cheapflights.com's complete list of 2-for-1 Vacation Destinations, visit: www.cheapflights.com/news/2-for-1-vacation-destinations.
About Cheapflights.com, part of the Momondo Group
Founded in 1996, Cheapflights is a leading global flight comparison and deals publishing platform. It is now a market leader in the UK, U.S., Canada, South Africa, Australia and New Zealand generating over $3 billion in global downstream revenue for its partners as it expands into numerous other territories. More than 120 million users visit its websites and apps each year, receiving more than two billion search results a month from across 900,000 routes. The 10 million strong opt-in subscribers to the Cheapflights newsletter receive the best deals from over 120 travel businesses -- for whom it has driven more than $65 million in revenue this year. Together, the Cheapflights platforms generate enough bookings for its partners to fill a Boeing 747 every five minutes.
In 2011, Cheapflights became part of the privately owned online travel search and inspiration network, Momondo Group.
Follow us on:
Twitter: twitter.com/cheapflights
Facebook: facebook.com/cheapflights
Instagram: instagram.com/cheapflights
Pinterest: pinterest.com/cheapflights
Contact Information:
Contact Information:
Cheapflights.com
Tel: +1 (647) 782-3005
E-mail:
Website: www.cheapflights.com