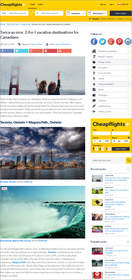 Cheapflights.ca blog post Twice as nice: 2-for-1 vacation destinations for Canadians. Does a buy one, get one free vacation sound too good to be true? Booking a BOGO bon voyage is easier than you think. We chose our favourite spots which offer two dramatically different experiences a quick train, bus or car trip away.
TORONTO, ON--(Marketwired - Apr 6, 2016) - With a loonie that's still in the doldrums, it pays to stretch your travel dollars as far as possible. To help expand your holiday possibilities, the travel experts at Cheapflights.ca, the champions of simple travel search, have come up with the best two-for-one vacations. Combine two destinations into one great itinerary and make the best use of your time away. 
Discover Cheapflights.ca's list of 2-for-1 Vacation Destinations for Canadians and see twice as much on your next vacay. Here are a few of the stand-out cities and their equally awesome plus-ones:
Montreal, Quebec + Ottawa, Ontario - It's easy to combine Montreal and Ottawa into a two-for-one vacation that allows you to experience a little slice of Europe right in Canada along with a couple of days in the nation's capital. Fly to one and then drive or take the train or bus to the other. Round-trip train fares between the two cities on VIA Rail can be found for under $80 and the two-hour ride is a scenic one. Taking the bus is even more pocket-friendly and you can use Busbud to search for the cheapest fares. With the highest number of restaurants per capita in Canada and some of the best restaurants in the country, Montreal is a city made for foodies. Art, shopping, live music, stellar nightlife and the aforementioned European vibe are also all big draws. In Ottawa, the Rideau Canal, Ontario's only UNESCO World Heritage Site, is a must. In addition, there are the Parliament Buildings to see, ByWard Market to explore and many art galleries to visit.


Vancouver, British Columbia + Kelowna, British Columbia - Crossing these West Coast cities off of your list in one trip is entirely doable and well worth considering for a spring or summer vacation. In Vancouver, you've got your mix of eclectic neighbourhoods to explore, a laid-back vibe and the chance to experience mountains and the ocean. And don't forget to leave time for attractions like Stanley Park, Granville Island and the Capilano Suspension Bridge. Afterwards, head 389 kilometres to Kelowna, located in the Okanagan Valley, and put a wine-focused twist on your trip. The Kelowna area is home to 30 wineries, all located within a short distance of one another. And wine isn't all that's harvested here. The area is also home to many farms and orchards so there are opportunities to take farm-to-table food tours.


Halifax, Nova Scotia + Prince Edward Island - Thinking of visiting Canada's East coast? You can combine a couple of destinations into one trip to stretch your vacation dollar by visiting Halifax, Nova Scotia and Prince Edward Island. Following a few days in Halifax, you can drive on to PEI via the Confederation Bridge, which should take just over three hours. Halifax boasts many public gardens, ultra-fresh seafood, many art galleries, museums and historical sites and some unique brewery tours to take like the Alexander Keith's Nova Scotia Brewery tour. Over on PEI, you'll also be treated to delicious seafood, as well as beautiful beaches like the white stretches of sand in PEI National Park. The island is also one of the premiere golf destinations in Canada and offers much in the way of cycling and hiking opportunities along the 435 kilometre Confederation Trail.


Seattle, Washington, United States + Portland, Oregon, United States - Seattle and Portland, the two main cities of the Pacific Northwest, make an ideal two-in-one vacation. The cities share similar ideals when it comes to cuisine (sustainable, farm-to-table), art, music and way of life, but also offer different experiences for the urban adventurer. Fly to one and then drive or hop on an Amtrak train (just over three hours and about $45 for a one-way ticket) to the other. When you're in Seattle make a beeline for Pike Place Market, a nine-acre historic district where you'll find fresh produce, a craft market, shops and restaurants. Other notable sights include the Space Needle and the incredibly beautiful Chihuly Garden and Glass, a wonderland of art work, glass sculpture and gardens. Once you get to Portland, grab a snack at one of the city's 600+ food trucks, enjoy a pint from of Portland's 65+ breweries (there are even kid and dog-friendly breweries to visit), explore numerous parks and gardens and check out Powell's City of Books, one of the biggest bookstores in the world.


Winnipeg, Manitoba + Churchill, Manitoba - Get a real taste for Manitoba with a visit to both the capital city of Winnipeg and then switch things up with a trip into the vast Manitoba wilderness with a trip to rugged yet beautiful Churchill. Winnipeg offers an urban experience complete with great restaurants, shopping and historic sites and museums. The Forks, Winnipeg's number one tourist destination, is also a must. The multifaceted site is filled with shops, restaurants, green space and attractions for all ages. Depending on when you visit, Churchill offers the chance to see polar bears in their natural habitat, as well the chance to kayak with beluga whales (also in their natural habitat). Fly into Winnipeg and then to get to Churchill you can either take the train all the way -- it's a 48-hour journey (one-way for about $200) but a truly scenic one, or you can drive to Thompson Manitoba (about 7.5 hours) and then hop a train to Churchill (one-way for about $70).


Check out our other picks for where to double down and see twice as much: Toronto, Ontario + Niagara Falls, Ontario; Las Vegas, Nevada + the Grand Canyon, United States; Charleston, South Carolina + Hilton Head, South Carolina, United States, and San Francisco, California + Lake Tahoe, United States. To get the details on these getaways and to see Cheapflights.ca's complete list of 2-for-1 Vacation Destinations for Canadians at www.cheapflights.ca/news/buy-one-vacation-get-two-destinations.
About Cheapflights.ca, part of the Momondo Group
Founded in 1996, Cheapflights is a leading global flight comparison and deals publishing platform dedicated to taking the complexity out of finding the best value flights through the application of innovative, intuitive technologies: Smart search. Made simple. It is now a market leader in the UK, US, Canada, South Africa, Australia and New Zealand generating more than C$4 billion in global downstream revenue for its partners as it expands into numerous other territories. More than 120 million users visit its websites and apps each year, receiving more than two billion search results a month from across 900,000 routes. The 10 million strong opt-in subscribers to the Cheapflights newsletter receive the best deals from more than 120 travel businesses -- for whom it has driven more than C$80 million in revenue this year. Together, the Cheapflights platforms generate enough bookings for its partners to fill a Boeing 747 every five minutes.
In 2011, Cheapflights became part of the privately owned online travel search and inspiration network, Momondo Group.
Follow us on:
Twitter: twitter.com/cheapflights
Facebook: facebook.com/cheapflights
Instagram: instagram.com/cheapflights
Pinterest: pinterest.com/cheapflights
Contact Information:
Contact Information:
Cheapflights.ca
Tel: +1 (647) 782-3005
E-mail:
Website: www.cheapflights.ca