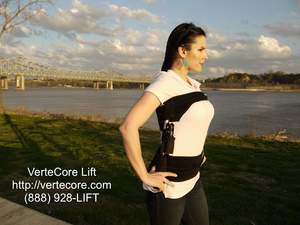 VerteCore Lift – Immediate Back Pain Relief. The VerteCore Lift provides on-the-go spinal decompression to help relieve back pain without drugs or back surgery. Please call use to learn more (888) 928-LIFT.
NEW YORK, NY--(Marketwired - Apr 11, 2016) - VerteCore Technologies (http://vertecore.com) launched an Indiegogo crowdfunding campaign to raise enough money to manufacture its first production run of its brand new "VerteCore Lift." Setting up the manufacturing line is the final step in a four-year process that has allowed VerteCore to work with leading mechanical and electrical engineers to build a number of different prototypes. VerteCore has worked long hours with teams of medical doctors, chiropractors, orthopedists and neurosurgeons to perfect its patent-pending design and transform it into a durable, long lasting medical device that can endure heavy use by customers at home as well as in a medical office setting.
The VerteCore Lift provides affordable, comfortable, convenient, mobile spinal decompression for people who suffer from chronic lower back pain created by bulging discs, herniated discs and other spine conditions that put pressure on and pinch sensitive spinal cord nerves.
The VerteCore Lift has been evaluated and peer-reviewed by a wide range of medical doctors that see the FDA Class 1-cleared medical device as a tremendous step forward in providing a more effective solution at treating many different forms of low back pain including degenerative disc disease, sacroiliac joint dysfunction, sciatica, spinal lumbar stenosis, functional scoliosis, bulging and herniated discs.
As the name implies, the Lift effectively stretches or decompresses the spine and allows the ruptured annulus fibrosus of intervertebral discs to go through a process known as "resorption," which means when pressure is relieved, it allows the ruptured disc's nucleus pulposus to retreat back inside the annulus fibrosus thus decreasing pressure on spinal nerve roots which cause low back pain.
VerteCore has also signed a fulfillment and distribution deal with Brilliant Fulfillment based in Carrolton, Texas. Once the crowdfunding campaign concludes Brilliant Fulfillment's call center will begin to accepting orders from back pain patients, medical professionals, spine treatment centers and medical device retailers and resellers at (888) 928-LIFT.
Orders from the crowdfunding campaign will be filled first and should begin shipping in three to six months after the crowdfunding campaign concludes.
Contact Information:
Contacts:
Paul Leake
VerteCore Technologies
(888) 928-LIFT
(601) 807-2148


Robert Hoskins
Crowdfunding PR Campaigns
(512) 627-6622