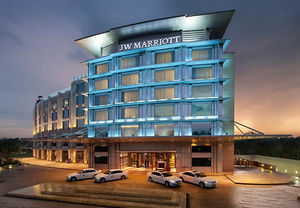 The JW Marriott Hotel Chandigarh introduces its the Exceptional Getaway Package, an enticing package deal available through December 30, 2016. The package offers features like a cake upon arrival, meals for two and discounts on dining, laundry, and spa treatments.
CHANDIGARH, INDIA--(Marketwired - May 5, 2016) -  With its 5-star luxury, full-service spa, six restaurants and glittering rooftop pool, the JW Marriott Hotel Chandigarh is one of those destinations that entices visitors all year round. But travelers looking to book a summer getaway or, a little later, a holiday escape have one more reason to reserve their stay at this city-center Chandigarh hotel: The Exceptional Getaway Package.
Available through December 30, 2016, the package features:
Cake on arrival for a sweet welcome
Breakfast and lunch or dinner for two in The Café @ JW, which engages visitors via carving stations, buffets and an internationally-inspired a la carte menu
Complimentary meals for kids under 12
High-speed Internet access to stay connected during your travels
20% discount on food and nonalcoholic beverages
20% discount on treatments at Quan Spa, a state-of-the-art destination that integrates Ayurvedic traditions and relaxation within its menu of services
20% discount on laundry service
The Chandigarh hotel deal's array of indulgences speaks to every sort of traveler, from families who want to discover area attractions like The Rock Garden of Chandigarh, to couples who want a romantic escape. Even corporate travelers can take advantage of the promotion to turn a business trip into a mini-holiday. And couples or wedding planners organizing events in Chandigarh will find this offer especially convenient, too, considering the property's more than 8,000 square feet of beautifully appointed event space and 900-person Grand Ballroom.
Located in the heart of the city's business district, the hotel puts guests just steps from major corporations and Punjab University. Other attractions like Sukhna Lake, Pinjore Gardens and the beautifully scenic Leisure Valley are all close by as well for experiences that are as spectacular as the hotel itself.
Reserve your Exceptional Getaway today with the promotional code W11!
About the JW Marriott Hotel Chandigarh
Sleekly opulent, the JW Marriott Hotel Chandigarh combines luxury with contemporary style for a distinctive destination. The 164 guest rooms, which include four suites and one presidential suite, indulge visitors with plush bedding, high-speed Internet access, cable television and CD players, as well as large desks and state-of-the-art phones for business travelers. An executive lounge affords additional comforts including private spaces and daily culinary offerings. And the rest of the property is just as impressive. Guests enjoy access to seven restaurants, a fitness center, the full-service Quan Spa and a rooftop swimming pool with spectacular views. The property's 8,407 square feet of elegant event space features the latest technology for memorable meetings and functions. And with a location next to all the best places to see in Chandigarh, from the airport to Sector 17, the hotel ensures its guests experience unparalleled convenience during their stay.
Contact Information:
JW Marriott Hotel Chandigarh
Plot No: 6, Sector 35-B, Dakshin Marg
Chandigarh, 1600 35 India
91-172-395 5555
http://www.marriott.com/hotels/travel/ixcjw-jw-marriott-hotel-chandigarh/