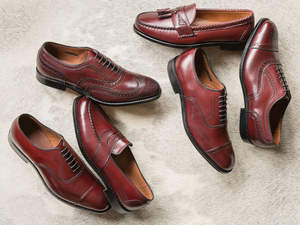 Allen Edmonds' Father's Day sale will feature special pricing on a variety of shoes and accessories, including $150 off select merlot shoe styles.
PORT WASHINGTON, WI--(Marketwired - Jun 2, 2016) - Allen Edmonds, the U.S. premium men's shoe manufacturer headquartered in Port Washington, Wis., is getting dad ready for summer with its annual Father's Day sale. The sale will run from June 2 through June 19, 2016 and offers special pricing on a variety of shoes, as well as smaller gift options.
"Many men would say it was their father who first introduced them to our shoes, and we think that milestone is worth celebrating," said Paul Grangaard, President and CEO of Allen Edmonds. "We're honoring the special father-son bond with our annual Father's Day sale. Styles like our new boat or driving shoes have a classic, cross-generation look that speaks to both fathers and sons alike."
The sale offers special pricing of up to $150 off selected shoe styles, and gives all customers the opportunity to take advantage of great prices. No matter if your dad is a golfer, a boater, a sports fan, or simply a stylish guy, Allen Edmonds has you covered. Here are some of the unique items the company is highlighting this Father's Day:
For more information, visit AllenEdmonds.com or an Allen Edmonds store near you.
About Allen Edmonds Shoe Corporation
 Founded in 1922, Allen Edmonds Corporation is a privately-held, U.S.-based retailer of premium men's footwear, apparel, leather goods and accessories with a focus on American manufacturing. Allen Edmonds' famous Goodyear welted shoes are handcrafted in Port Washington, Wis. using a 212-step production process. Consistent with the company's heritage, Allen Edmonds remains committed to providing excellent products at exceptional value for style and quality conscious men worldwide. By partnering with like-minded U.S. manufacturers, the company's offering includes men's clothing and accessory needs from head to toe. Allen Edmonds products are available at premier stores worldwide, including 60 company-owned Allen Edmonds stores across the United States, and online at AllenEdmonds.com.
Contact Information:
MEDIA CONTACT
Hayley Formolo
SCC Public Relations

Office: 312.464.1666