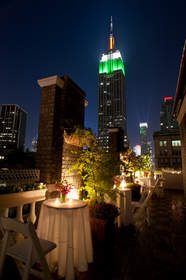 Image of the Empire State Building from Midtown Terrace on Fifth Avenue in Manhattan
NEW YORK, NY--(Marketwired - Jun 6, 2016) - Join John Starks and celebrity friends to support the John Starks Foundation and 3 Point Scholarship. You can view their website www.johnstarks.com for photos of past events and to learn more about the John Starks Foundation.
Event Time: 6pm-10pm
Address: 267 Fifth Avenue
Founded in 1994 by former NBA star and Tulsa native John Starks, The John Starks Foundation is a 501©3 nonprofit organization dedicated to providing financial assistance to high school seniors in the form of academic scholarships. In addition, the Foundation provides community focused on furthering the educational, recreational and career development of children and their families.
About Midtown Loft & Terrace:
The venue is owned by Tarkan Bastiyali. An upscale venue in the heart of New York City in Midtown Manhattan, offering two distinctly elegant spaces: Midtown Loft and Midtown Terrace -- at one exquisite address. The venue will be offering several new features: A retractable enclosed rooftop so the Terrace can be utilized year round, a dedicated modern lobby, and newly designed private elevator opening out onto the Terrace.
Contact Information:
Contact:
Midtown Loft & Terrace
Tel. 888.435.4979 ext 1
Email: