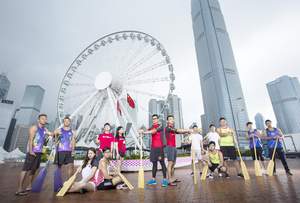 Hong Kong celebrates the 40th anniversary of International Dragon Boat Races with 3-day Dragon Boat Carnival (10-12 June). Over 4,000 paddlers around the world will paddle in the famous Victoria Harbour, accompanied by all day parties in nearby BeerFest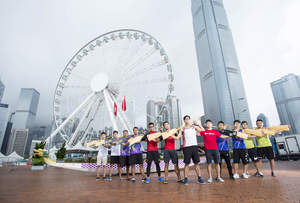 Hong Kong celebrates the 40th anniversary of International Dragon Boat Races with 3-day Dragon Boat Carnival (10-12 June). Over 4,000 paddlers around the world will paddle in the famous Victoria Harbour, accompanied by all day parties in nearby BeerFest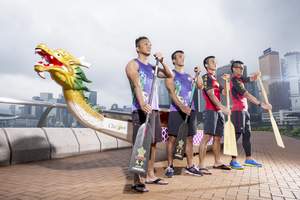 Hong Kong celebrates the 40th anniversary of International Dragon Boat Races with 3-day Dragon Boat Carnival (10-12 June). Over 4,000 paddlers around the world will paddle in the famous Victoria Harbour, accompanied by all day parties in nearby BeerFest
HONG KONG, CHINA--(Marketwired - Jun 7, 2016) - The Dragon Boat Festival, also known as Tuen Ng Festival, is a traditional Chinese festival which memorizes Qu Yuan, a great poet in the Zhou Dynasty. It is celebrated across the globe on every 5th day of May on Lunar calendar. Hong Kong, as Asia's World City with well-kept Chinese traditions, once again promises an exciting and fun Festival to visitors. Celebrating the 40th anniversary of International Dragon Boat Races, the Dragon Boat Carnival, which takes place from 10-12 June, will welcome over 4,000 passionate paddlers around the world competing for races in famous Victoria Harbour. The energetic races will be joined by all day parties in nearby San Miguel BeerFest, where beers and music further elevates the summer heat!
Highlights of this year include:
Big scale races at the heart of city: The 3-day races will take place in the heart of Hong Kong at Victoria Harbour. 4,000 athletes competing for a total of 24 championships.
Fun and creative race: Paddlers dress up in fancy team 'uniform' trying to attract your eyeballs with unique outfits.
Great music, beers and party: Local and international singers and DJs will grace the stage at the San Miguel BeerFest, to wind down from all the adrenaline of watching the dragon boat races.
Come and join the party in Hong Kong!
Date
 
10-12 June 2016 (Friday to Sunday)
Programme Highlights & Schedule
 
CCB (Asia) Hong Kong International Dragon Boat Races:
10 June (Friday) - 12pm to 5:30pm
11 June (Saturday) - 8:30am to 5:30pm
12 June (Sunday) - 8:30am to 5:30pm
 
 
San Miguel BeerFest:
10-11 June (Friday and Saturday) - 11am to 10:30pm
12 June (Sunday) - 11am to 9:30pm
Venue
 
Central Harbourfront
(The course runs from Central Pier No. 10 to near Citic Tower)
Admission
 
Free
Details
 
http://www.discoverhongkong.com/DragonBoat
More on-date event photos will be available on Reuters Media Express Channel on 12 June 2016 15:30 (GMT +8).
Link: http://open.mediaexpress.reuters.com/contributor/hong-kong
Image
Hong Kong celebrates the 40th anniversary of International Dragon Boat Races with 3-day Dragon Boat Carnival (10-12 June). Over 4,000 paddlers around the world will paddle in the famous Victoria Harbour, accompanied by all day parties in nearby BeerFest
http://release.media-outreach.com/i/Download/4786
http://release.media-outreach.com/i/Download/4787
http://release.media-outreach.com/i/Download/4788
Contact Information:
Hong Kong Tourism Board