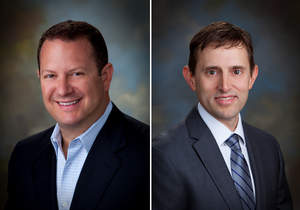 Neil J. Zemmel, MD, FACS and Steven J. Montante, MD - Plastic Surgeons in Richmond
RICHMOND, VA--(Marketwired - Jun 8, 2016) - On a recent episode of "The Doctors," a young man from Virginia named Austin told the story of his weight gain and subsequent weight loss. Austin attributed his weight gain to a diet of fast food and spending his time playing video games instead of active sports. As a result, he was the target of school bullying, was constantly called nicknames, and weighed 324 pounds before making the decision to turn his life around. Hearing Austin's story -- and how he ultimately lost half of his bodyweight -- Neil J. Zemmel, MD, FACS and Steven J. Montante, MD of Richmond Aesthetic Surgery were proud to help Austin with the final step of his weight loss journey.
According to the board-certified plastic surgeons, "The after-effects that many people may not realize is that dramatic weight loss often leaves the person with a significant amount of excess skin, even after all of these lifestyle changes." Due to Austin's healthier diet and new fitness routine, he was able to see dramatic results, but he still carried around ten pounds of excess skin. Drs. Zemmel and Montante highlight: "To help achieve a more tightened and toned appearance, body contouring after major weight loss can be the final step to transforming the body and boosting self-confidence."
For example, a body lift (otherwise known as a belt lipectomy) is designed to tighten excess skin from the lower abdomen, back, pubic area, and lateral thighs. Drs. Zemmel and Montante note that after losing a significant amount of weight, patients often have excess skin sagging from these areas of the body. A body lift can eliminate this excess skin as well as contour these areas for results that look more toned and athletic. Some patients at Richmond Aesthetic Surgery choose to combine a body lift with an arm lift or a thigh lift for a more comprehensive rejuvenation. For patients like Austin, body contouring after major weight loss can help them look as good on the outside as they feel on the inside after working so hard to improve their health and their lives.
About Richmond Aesthetic Surgery
Dr. Neil J. Zemmel and Dr. Steven J. Montante are both board certified by the American Board of Plastic Surgery. They operate Richmond Aesthetic Surgery and perform a wide range of cosmetic and reconstructive procedures for the breasts, body, and face. Using state-of-the-art surgical techniques, they offer the most safe and effective procedures possible to help patients achieve their cosmetic goals. The experienced plastic surgeons are committed to staying up-to-date with the latest advancements in technology. Drs. Zemmel and Montante are available for interview upon request.
For more information about Richmond Aesthetic Surgery, visit richmondplasticsurgery.com, vabreastsurgery.com, and plus.google.com/109479035144616950506/about.
To view the original source of this press release, click here:
https://www.richmondplasticsurgery.com/latest-news/richmond-plastic-surgeons-offer-body-contouring-after-teens-weight-loss
Contact Information:
Richmond Aesthetic Surgery
611 Watkins Centre Parkway, Suite 350
Midlothian, VA 23114
(804) 423-2100

Rosemont Media
(858) 200-0044
www.rosemontmedia.com