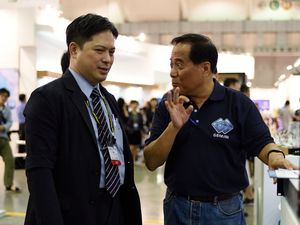 Secretary of Industrial Development Bureau, Dr. Ming-Ji Wu (left) visited Gemini booth during Computex, Gemini CEO Patrick Fu (right) introduced the solution to him.
TAIPEI, TAIWAN--(Marketwired - Jun 17, 2016) - Gemini Open Cloud Computing Inc. (Gemini) launched Gemini Open Cloud (GOC) solution with integrated cloud services including Big Data Cloud (Hadoop Cloud) and VSaaS Cloud (Video Surveillance as a Service), and hyper-converged cloud solution in 2016 Computex. Gemini obtained the attentions of numerous potential customers from all over the world throughout the exhibition and got visibility to expand the businesses to global. Gemini was invited by the Industrial Development Bureau, Ministry of Economic Affairs to take part in the Taiwan Cloud Expo pavilion at the 2016 Computex Taipei.
Gemini provides both cloud infrastructure software as well as an end-to-end cloud application service integration platform. GOC is based on OpenStack and runs on standard Intel server platform. GOC provides multi-tenancy architecture and offers self-service provisioning portal for CSPs (Cloud Service Provider), automations cloud service orchestration, Restful API, virtual resource management and monitoring/reporting capabilities. GOC allows CSPs to turn legacy applications into cloud services without changing binary code and offer these cloud service to multiple users. CSPs don't need to understand the complexities of cloud virtualization infrastructure nor do any complicated programming to port an application to a cloud service under GOC.
Gemini also teamed up with AIC, the high quality IT hardware vendor in Taiwan, to deploy GOC in hyper-converged HA mode with only three nodes in a 2U4Node chassis system. The HA configuration can also be scaled up to multiple racks of computing and storage servers to support multiple CSPs (tenants) in an IDC environment. GOC, with its all-in-one virtualization cloud platform technology, distinguished itself with its ability to provide cloud turn-key solutions. Gemini can work with partners including system integrators, independent solution vendors, distributors and even IDC/Telecom to provide end-to-end solutions to global customers.
GOC enables customer to manage cloud service life cycle from develop to operate under the unified user portal, as well as deployment of application/service to heterogeneous environment based on the requirement, to increase the experience of enterprise cloud service management.
About Gemini Open Cloud Computing Inc.
Gemini Open Cloud Computing Inc. was founded in December 2014 and officially spin-off from ITRI (Industrial Technology Research Institute) in March 2015. Patrick Fu, CEO of Gemini, has over 30 years' experience in enterprise software development and management in US. Before becoming Gemini's CEO, he held the role as Cloud OS team lead in ITRI. Backed by an experienced team of system software R&D engineers from Taiwan and the United States, Gemini makes cloud computing easy for business and is now enterprise and telecom grade ready.
Contact Information:
Media contact
Yoyo Chiang
CMO
Email: