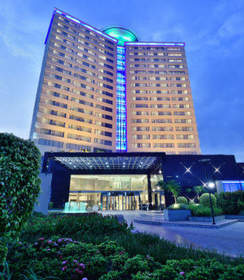 On June 27th, Kochi Marriott & Courtyard Marriott Kochi Airport hotel cohesively are set to host a series of activities, at M-Day, curated by Marriott International is a day dedicated for customer and associate engagement, revenue generation and to garner new opportunities to strengthen sales.
KOCHI, INDIA--(Marketwired - Jun 24, 2016) - In an endeavor to engage with patrons beyond business, the Kochi Marriott Hotel will host a series of M-Day activities commencing on 27th June 2016. The initiative is to celebrate the Kochi 5-star hotel's relationship with valued customers in India and to develop on-going relationships by providing indispensable services in order to ensure customer satisfaction. The activities are cohesively organized by Kochi Marriott Hotel and Courtyard Marriott Kochi Airport hotel.
Curated by Marriott International, M-Day is dedicated to customer and associate engagement, revenue generation and garnering new opportunities to strengthen sales. On M-Day business is driven across the country through effective customer communication and closing of existing business in pipeline.
At the Kochi Marriott, associates of all levels will gather together to organize "Partners in Excellence," a familiarization tour of the Kerala hotel for existing and prospective guests showcasing products and meeting room packages in a theme based milieu. The team has also planned a motivational session by women entrepreneurs designed exclusively for associates keeping in mind the focus to develop women across the country. Additionally, the hotel wellness team is hosting an exclusive yoga session for a team of invited guests as a way of thanking them through sharing a health beneficial meeting.
"M-Day initiative is a unique way to show the brand's support to its team and patrons," said Abhishek Rajagolkar, Multi-Property Director of Sales and Marketing, in speaking about the initiative. "It is also a way of letting our customers know that we constantly strive to add more value to their business and their customers, provide their travelers and delegates with more options and reward their loyalty with Marriott Reward Points and dedicated offers for its members."
Also known as Marriott Asia Pacific's New Closing Day, the initiative will be held on 27th June at all Marriott hotels across the Asia Pacific.
Injecting additional motivation to the 'M Day' initiative is the recognition commemoration from Marriott International awarded to the hotel or cluster that produces the maximum revenue out of the day. The best practice is shared across the region.
About the Kochi Marriott Hotel
New and exciting, the Kochi Marriott Hotel welcomes travelers with innovative designs offering style with substance and intuitive service to ensure a relaxed and productive stay. Located 22 kilometers from Courtyard Kochi Airport, the hotel is conveniently located within the Lulu Mall campus and is close to Kochi Airport; just moments from the city's vibrant IT district and popular landmarks. In addition to luxurious guest rooms and suites, the property features 25,963 square feet (7,913 square meters) of high-tech meeting space supported by professional catering and dedicated event managers. On-site dining options, a relaxing pool, well-equipped fitness center and full-service spa allow guests to make the most of their travel time in southwestern India.
Contact Information:
CONTACT:
Kochi Marriott Hotel
Lulu International Shopping Mall
34/1111 N. H. 47, Edappally Kochi 682024 India
http://www.marriott.com/hotels/travel/cokmc-kochi-marriott-hotel/
+91-484-7177777