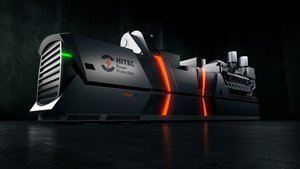 HITEC Power Protection will showcase its PowerPRO series at the upcoming DatacenterDynamics Webscale in San Jose, CA.
ROSENBERG, TX--(Marketwired - Jul 12, 2016) - HITEC Power Protection, the inventor of diesel rotary UPS, today announced its attendance at DatacenterDynamics Webscale, San Jose, CA, July 19-20 (Booth #31). The company will showcase its PowerPRO series, the most reliable and efficient continuous power system available for mission-critical facilities.
Tweet this: See industry's most efficient #UPS power solution Booth 31 @dcdconverged #DCDWebscale http://bit.ly/1M02bZW #datacenterpower
Attended by over 1,200 senior business, operations and technology professionals, DatacenterDynamics Webscale covers the full ecosystem for how enterprise data centers are being redefined and how the economics of IT and data center service delivery is being reshaped. HITEC's PowerPRO solution embodies the event's mission and allows attendees to learn how diesel rotary uninterruptible power supply (DRUPS) solutions offer the greatest power density in the market while delivering the lowest total cost of ownership (TCO).
"Mission-critical facilities, governments and data centers all require continuous power to conduct operations," said Ranjan Misra, President of HITEC Power Protection North America. "However, these facilities are vulnerable to power failures and need immediate backup to ensure uninterrupted operations. HITEC's PowerPRO solves the need for continuous power while also lowering energy consumption. We are eager to share our DRUPS breakthroughs with DatacenterDynamics Webscale attendees."
To learn how your company can benefit from HITEC's PowerPRO series, visit HITEC at DatacenterDynamics Webscale Booth #31 or schedule an appointment for a free TCO and power analysis by contacting (800) 794-9398 or emailing: smart.simple.reliable@hitec-ups.com
About HITEC Power Protection
HITEC Power Protection is the world leader in continuous power solutions with over 1600 systems installed globally. With offices in Texas, California, and Virginia, HITEC delivers UPS solutions that are designed to fit local market requirements and the business-critical needs of its customers. HITEC guarantees customer service support through an integrated network of highly qualified service engineers and backed by its Regional Support Centers and Global Helpdesk. For more information, please visit http://www.thenew-hitec.com/.
Contact Information:
For more information, contact:
Jackie Abramian
BridgeView Marketing (for HITEC Power Protection)
603-570-7533
Jackie@bridgeviewmarketing.com