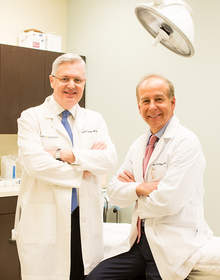 David A. Lickstein, MD, FACS and Mark A. Pinsky, MD - Plastic Surgeons in Palm Beach
PALM BEACH, FL--(Marketwired - Sep 28, 2016) - According to Dr. Mark Pinsky and Dr. David Lickstein, cellulite is one of the most common cosmetic concerns among their female patients. The Palm Beach plastic surgeons highlight that 85% of women between the ages of 25-54 in the United States are affected by cellulite, and the condition is typically most prominent along the thighs and buttocks. To help their patients smooth stubborn cellulite dimpling, Drs. Pinsky and Lickstein recently began offering Cellfina™ as an effective non-surgical treatment option.
"Contrary to popular belief, the appearance of cellulite is not caused by the accumulation of fat, but rather depressions made by fibrous bands that connect the superficial layer of skin with the deeper tissues of the buttocks and thighs," say Dr. Pinsky. Dr. Lickstein notes that while losing or gaining weight does little to improve the look of cellulite, relieving tension in the connective tissue responsible for cellulite can be quite effective. When asked how Cellfina™ works, the doctors explain this innovative treatment disconnects tissue bands located beneath dimpling using a handheld device with a very fine needle at the target site. After treatment, the patients at Pinsky & Lickstein Plastic Surgery typically see rapid improvement and achieve smoother, more toned skin.
Drs. Pinsky and Lickstein say that when patients ask questions about Cellfina™, most want to know how long they can expect results to last. "The FDA has cleared Cellfina™ for results that last two years and is currently preparing to extend that clearance to three years," say the plastic surgeons. They go on to note that some patients have enjoyed smooth skin after Cellfina™ treatment for up to four years or longer. As an added benefit, Cellfina™ is quick and minimally-invasive; Drs. Pinsky and Lickstein can usually complete treatment in 90 minutes and patients typically return to work and their regular activities right away.
About Pinsky & Lickstein Plastic Surgery
Board-certified plastic surgeons Dr. Mark Pinsky and Dr. David Lickstein perform a wide range of cosmetic procedures to rejuvenate the appearance of the face, body, breasts, and skin. Recognized among plastic and reconstructive surgeons as leaders in their field, they are published authorities and featured experts on a variety of plastic surgery topics. Dr. Pinsky and Dr. Lickstein are both active members of the American Medical Association, the American Society of Plastic Surgeons, and the American Society for Aesthetic Plastic Surgery, among other professional organizations. Additionally, Dr. Pinsky and Dr. Lickstein are deeply involved in diverse charitable organizations and are committed to contributing their time and efforts to help improve the lives of others. Both doctors are available for interview upon request.
For more information about Dr. Mark Pinsky and Dr. David Lickstein and their practice, please visit pinskylickstein.com and facebook.com/pinskylickstein.
To view the original source of this press release, click here:
https://www.pinskylickstein.com/news-room/palm-beach-plastic-surgeons-discuss-cellulite-treatment-with-cellfina
Contact Information:
Pinsky & Lickstein Plastic Surgery
11020 RCA Center Dr., Ste. 2010
Palm Beach Gardens, FL 33410
(866) 881-8001

Rosemont Media
(858) 200-0044
www.rosemontmedia.com