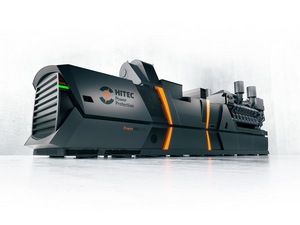 See the industry's most reliable and efficient continuous power system --HITEC's PowerPRO at 7x24 Exchange Fall Conference (Booth #36).
ROSENBERG, TX--(Marketwired - Oct 19, 2016) - HITEC Power Protection, the inventor of diesel rotary UPS, today announced the company will be exhibiting its PowerPRO series at the 7x24 Exchange Fall Conference, October 23-26, Phoenix, Arizona (Booth #36). As the industry's most reliable and efficient continuous power system, HITEC's PowerPRO is the preferred choice for mission-critical facilities managers for high efficiencies and low TCO.
Tweet this: For end-to-end reliability with #UPS #powersolution http://bit.ly/1M02bZW visit Booth #36 @7x24Exchange Fall Conference #datacenterpower
Designed for anyone involved with 7x24 infrastructures, the 7x24 Exchange Fall Conference will focus on the impact of technology trends on end-to-end reliability for mission critical facilities. HITEC's PowerPRO UPS is an ideal fit for conference attendees to learn how this innovative UPS solution addresses the industry's most plaguing issues such as:
Noise
Emission control issues
Space planning difficulties
Performance
Sensitive environmental requirements
"HITEC's mission is to support mission-critical facilities by assuring safe, reliable and conditioned power. In this manner, we are contributing to the uninterrupted supply of their services, while supporting facilities with the most innovative UPS solutions that meet demanding and complex processes," said Ranjan Misra, President of HITEC Power Protection Inc. "We are eager to share our industry experience with 7x24 Exchange attendees."
To learn how your company can benefit from HITEC's PowerPRO series, visit HITEC at 7x24 Exchange Fall Conference Booth #36 or schedule an appointment for a free TCO and power analysis by contacting (800) 794-9398 or emailing: info@hitec-ups.com.
About HITEC Power Protection
HITEC Power Protection is the world leader in continuous power solutions with over 1600 systems installed globally. With U.S. offices in Texas, California, Washington, Arizona, and Virginia, HITEC delivers UPS solutions that are designed to fit local market requirements and the business-critical needs of its customers. HITEC guarantees customer service support through an integrated network of highly qualified service engineers and backed by its Regional Support Centers and Global Helpdesk. For more information, please visit http://www.thenew-hitec.com/.
Contact Information:
For more information, contact:
Jackie Abramian
BridgeView Marketing (for HITEC Power Protection)
603-570-7533
Jackie@bridgeviewmarketing.com