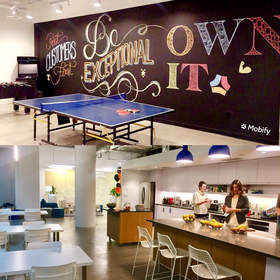 Mobile customer engagement leader Mobify's new headquarters at 725 Granville St. in Vancouver, BC.
VANCOUVER, BC--(Marketwired - Nov 1, 2016) - Vancouver tech anchor and mobile customer engagement leader Mobify has nearly doubled its space in a move to new downtown headquarters today, following an impressive year of growth.
The new Mobify headquarters, which also houses Microsoft offices and Sony Pictures Imageworks headquarters serves as home to 115 local Mobify employees.Vancouver-based project management firm Fusion and design group Dialog have transformed the 20,000-square-foot space at 725 Granville Street into an open plan environment with shared views and a collaborative vibe. Founded in 2007, Mobify has grown to become a global market leader with 140 employees. Nearly 300 brands and retailers around the world rely on The Mobify™ Platform to generate revenue and deliver great mobile experiences.
Mobify CEO Igor Faletski says as customers have embraced mobile commerce and mobile customer engagement to drive long-term business success, significant changes at Mobify have fueled the need for the expanded location.
"Mobify has grown to a venture-backed company capturing a leadership position in a multi-billion dollar mobile commerce technology market. Our engineers and designers have built the first unified platform for mobile customer engagement. And we've matured from an internal delivery model to a worldwide, partner-led approach in order to scale. We're excited to have new headquarters to match our business expansion with room to grow."
About Mobify
Mobify has invented The Mobify Platform, a leading mobile customer engagement solution for retailers and brands that want to boost revenues, keep up with customer expectations, and protect their competitive edge. The core of Mobify's platform is Progressive Mobile and Engagement Marketing. Progressive Mobile delivers a unified customer experience across mobile web and apps, while Engagement Marketing builds customer relationships through push notifications and store drivers. Leading global brands including Lancome, Burlington Coat Factory, Dollar Tree, Matalan, British Telecom, Crocs, Carnival Cruises, Bosch, Superdry, Eddie Bauer and Tommy Bahama generate extensive revenue through the Mobify Platform and rely on Mobify to grow their customer lifetime value. www.mobify.com
Contact Information:
Contact:
Betsy Kosheff
413-232-7057