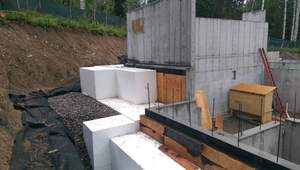 Light-weight and incredibly strong, ACH Foam's EPS Geofoam blocks solve a wide array of construction challenges.
DENVER, CO--(Marketwired - Jan 24, 2017) - Construction can be full of surprises and smart builders understand the importance of taking the time to assess each situation and develop practical solutions to solve challenges, while maintaining schedules and budgets. When a residential contractor building a new mountain home in Teton Village, Wyoming began excavating the hillside construction site, water quickly began to seep out of the soil indicating a potentially serious long-term danger to the future home. Water coming into the excavated hole indicated that there would be significant lateral pressure from the hillside above once the house was built and the site was restored. With some of the custom home's walls being as tall as 30' high, these pressures would build and eventually damage the structure over time.
To protect the home from future structural damage, the contractor knew that either the home's foundation walls needed to be built much thicker than anticipated or an earth stabilization strategy needed to be developed. Calculations on the cost of developing a concrete foundation thick enough to support the home while also acting as a retaining wall against the hillside pressure revealed cost overruns that would push the already contracted project substantially over budget. As an alternative, the structural engineer suggested the use of ACH Foam Technologies' Foam-Control® EPS Geofoam.
Lightweight and versatile, Foam-Control® EPS Geofoam is a strong, closed cell material that is used for a wide range of construction applications from slope stabilization projects like the Teton Village home to a protective barrier around gas lines in seismically-vulnerable areas. Working with the structural and geotechnical engineering team, the contractor used approximately 190 blocks of ACH Foam Technologies' Foam-Control® EPS 29 Geofoam to create a pressure-diminishing barrier around the foundation walls. The Geofoam blocks were stacked against the side of the foundation in an inverted pyramid pattern with the layers increasing in thickness from the base to the top. This allows the Geofoam to reduce the lateral pressure of the hillside against the foundation without adding tremendous cost to the project.
This solution was quickly and easily assembled using only hand labor and no specialized tools or heavy equipment. ACH Foam Technologies worked with the project engineers to test and verify the configuration's loading capacity and provided onsite support during installation to ensure everything went smoothly.