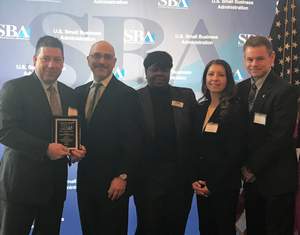 Pictured left to right: Andrew Glatz, Senior Managing Director and Head of Peapack-Gladstone Bank's SBA Lending Division, members of the New Jersey Small Business Administration, and Ana Ribeiro, Vice President, Senior Loan Administrator and David Clerkin, Vice President, Senior Loan Specialist at Peapack-Gladstone Bank
BEDMINSTER, NJ--(Marketwired - Jan 27, 2017) - Peapack-Gladstone Financial Corporation (NASDAQ: PGC) and Peapack-Gladstone Bank announce the Bank has been awarded the Small Business Administration New Jersey District Office's #1 Breakthrough Lender of the Year. "We believe that small businesses are the engine that drives the U.S. economy, and our goal is to assist start-up small business owners in securing the funding needed to build and expand their companies," said Andrew Glatz, Senior Managing Director and Head of Peapack-Gladstone Bank's SBA Lending Division. The Bank was recognized for its accomplishment at the U.S. Small Business Administration Annual Lender Awards Ceremony held on Thursday, January 26 at Forsgate Country Club in Monroe Township where Andrew Glatz received the award on behalf of the Bank.
"We became a client of Peapack-Gladstone Bank in 2016, with a Small Business Administration real estate loan," stated Paul Nix, Ph.D., President and CEO of Princeton Separations, Inc. located in Freehold, New Jersey. A biotech manufacturing company since 1984, Princeton Separations is now a major world-class provider of biomolecular separation systems used in DNA sequencing for molecular biologists in hospitals, forensics and research labs throughout the world. Dr. Nix says, "As a new client, I was impressed with the Bank's business etiquette. They have been great partners, and we are very happy about our decision."
In August 2016, Peapack-Gladstone Bank also earned the Small Business Administration Preferred Lender status enabling the Bank to provide streamlined financial assistance and expedited loan processing for its small business clients. The quick turnaround time enables Peapack-Gladstone Bank to provide funds rapidly, helping vibrant small business communities grow and prosper. Peapack-Gladstone Bank is one of only a small number of New Jersey Banks with the PLP (Preferred Lenders Program) designation. 
Peapack-Gladstone Bank's commitment toward assisting small business in creating jobs and economic opportunities across the State is deeply engraved in their culture. As stated by Glatz, "We will continue to work diligently in concert with small business in the future development of New Jersey's economy and communities."
Peapack-Gladstone Financial Corporation is a New Jersey bank holding company with total assets of $3.77 billion as of September 30, 2016. Founded in 1921, Peapack-Gladstone Bank is a commercial bank that provides innovative private banking services to businesses, real estate professionals, non-profits and consumers, which help them to establish, maintain and expand their legacy. Through its private banking locations in Bedminster, Morristown, Princeton and Teaneck, its private wealth management, commercial private banking, retail private banking and residential lending divisions, along with its online platforms, Peapack-Gladstone Bank offers an unparalleled commitment to client service.
Contact Information:
Rosanne Schwab
Peapack-Gladstone Bank
Assistant Vice President, Public Relations Manager
500 Hills Drive, Suite 300
Bedminster, NJ 07921
rschwab@pgbank.com
(908) 719-6543