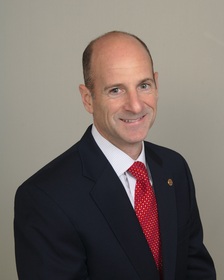 Christian Gaudioso, Senior Vice President, Senior Credit Underwriter, Peapack-Gladstone Bank
BEDMINSTER, NJ--(Marketwired - Nov 28, 2017) - Peapack-Gladstone Financial Corporation (NASDAQ: PGC) and Peapack-Gladstone Bank announce the appointment of Christian Gaudioso, Senior Vice President, Senior Credit Underwriter at Peapack-Gladstone Bank. Mr. Gaudioso is now part of the private banking team responsible for the structuring, underwriting and ongoing monitoring of Commercial & Industrial (C&I) loans in the mid-upper middle market, while providing the Bank's exclusive one-touch private banking experience.
Mr. Gaudioso is a seasoned underwriter bringing to the bank 26 years of financial services experience. Previously, he held positions as senior underwriter; senior vice president, underwriting manager; and director of credit policy at Capital One Bank. Prior to that he served as senior underwriter and relationship manager at Bank of New York in Paterson, New Jersey and as senior underwriter at Bank of America.
Mr. Gaudioso holds a Bachelor of Science Degree in Finance and Accounting from the University of Tampa and holds Credit Risk Certification from the Risk Management Association (RMA). A resident of Randolph, New Jersey, Christian is a religious education instructor at St. Matthews the Apostle Parish and has been an active marathon fundraiser for various charities for the last 15 years.
Peapack-Gladstone Financial Corporation is a New Jersey bank holding company with total assets of $4.18 billion as of September 30, 2017. Founded in 1921, Peapack-Gladstone Bank is a commercial bank that provides innovative private banking services to businesses, non-profits and consumers, which help them to establish, maintain and expand their legacy. Through its private banking locations in Bedminster, Morristown, Princeton and Teaneck, its private wealth management, commercial private banking, retail private banking and residential lending divisions, along with its online platforms, Peapack-Gladstone Bank offers an unparalleled commitment to client service.
Contact Information:
Contact:
Rosanne Schwab
Peapack-Gladstone Bank
Assistant Vice President, Public Relations and Corporate Communications Manager
500 Hills Drive, Suite 300
Bedminster, NJ 07921
rschwab@pgbank.com
(908) 719-6543