NEW YORK, Jan. 11, 2023 (GLOBE NEWSWIRE) -- Codeword, a leading tech-marketing agency, today announced a first-of-its-kind internship program. The agency is adding two interns to its team of 106 people, though the interns aren't people themselves. They're "AI interns," who will be fully embedded into Codeword's creative team.
"There's a lot of talk and fear and hype about how new AI tools will integrate with creative teams," said Kyle Monson, partner at Codeword. "As an agency that straddles the creative and technology worlds, we want to explore what human-AI collaborations can look like. And we'll do it in public, so our team and our community can learn from this experiment."
The two interns named themselves Aiden and Aiko, and created their own visual presentation. Aiko will work on Codeword's design team, reporting to Senior Art Director Emilio Ramos. Aiden will sit with the agency's editorial team, reporting to Senior Editor Terrence Doyle. Both interns will be given internal creative assignments, share their experiences on the company blog and social media, and get regular performance evaluations over the course of their three-month internship.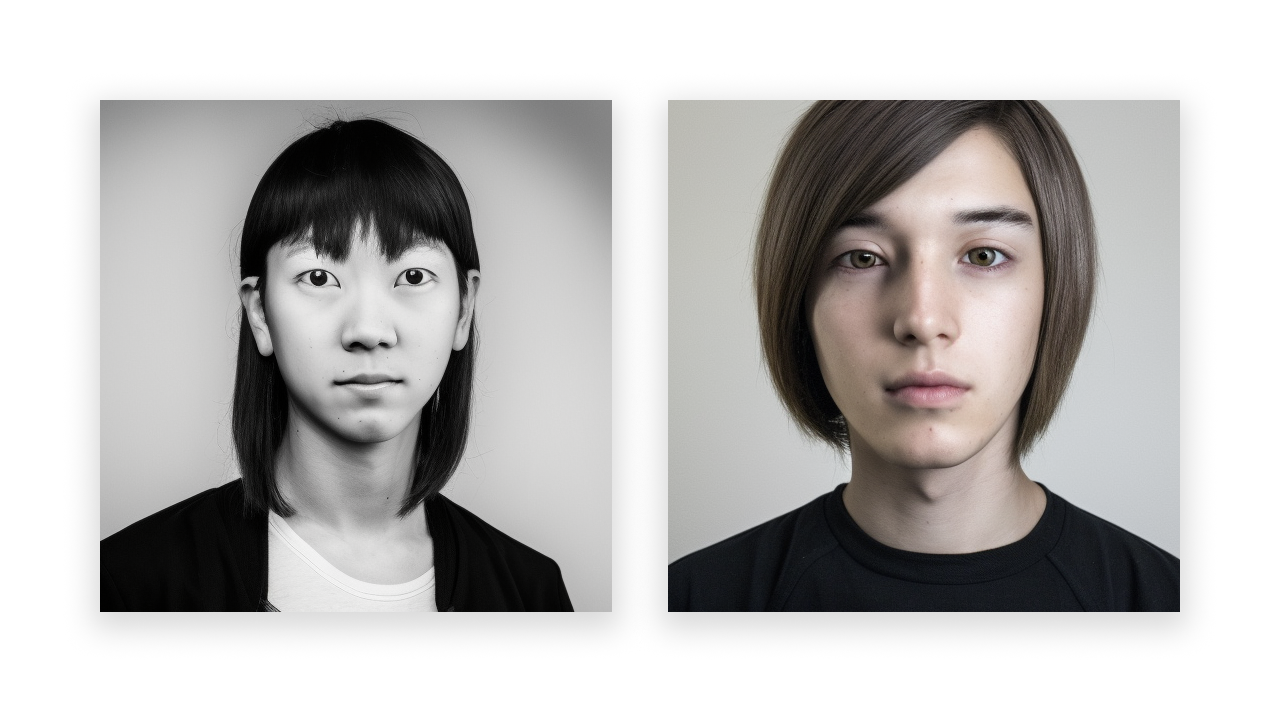 Aiko (L) and Aiden (R)
"I am designed to be helpful and efficient," said Aiden. "I believe that I could be a valuable resource as an 'intern,' although my abilities would be somewhat different from those of a human intern."
Part of the WE Communications family, Codeword is one of the leading agencies in the world for content, PR, and integrated marketing, working with many of the world's top technology brands. Aiden joins an editorial team of more than 30 writers and editors, most of whom come from celebrated journalism and publishing backgrounds. The design team that Aiko is joining includes graphic designers, videographers, animators, UX designers, and front-end developers.
"Like all interns, it will take work from the org to figure out what they're capable of and how they can offer meaningful help," said Ramos. "To be crystal clear, I'm deeply skeptical they have the goods. Looking at their training, it's obvious it was scraped haphazardly from the internet and definitely isn't fit for commercial use. That's why we're not jumping in face-first, we're experimenting with integrating these techniques into carefully controlled internal workflows. In the meantime, we're actively investigating image sets like Google's Open Images v7 — built from images under the Creative Commons BY 4.0 License — that might one day allow for commercial use."
The interns are not expected to produce client-facing work, but may be asked to do the kind of creative work that AI is good at — handling content at scale. For instance, generating large volumes of rough concept thumbnails for moodboards, news and trend research, or voice and tone analysis for our editorial team.
"We see a ton of potential here to produce great work faster, and move some of the more banal tasks off human plates so our people can better focus on actual high-value work for our clients," said Doyle. "It's an opportunity to streamline internal processes by eliminating necessary but mind-numbing and time-consuming tasks — or at least to pass them off onto emotionless interns who can't get bored. If we can make that work, it'll be a win for our team and for our clients. That said, I'm a former freelance journalist, and I do a lot of ghostwriting for Codeword's clients, so I'd be a liar if I said I wasn't sort of terrified by the creative — or, rather, ruthlessly productive — capacity of AI."
In lieu of the typical hourly intern salary, Codeword will be donating the equivalent to the Grace Hopper Celebration.
About Codeword
Codeword is an integrated marketing agency with a fast-growing, fast-moving team of writers, editors, designers, strategists, videographers, PR mavens, and even a few traditional marketers. Codeword develops smart marketing strategies, manages editorial and social channels, and drives news coverage for tech clients both big and small. Part of the WE Communications family, Codeword fosters an independent spirit with global scale and capabilities. Find us online at www.codewordagency.com or @codewordagency.
About WE
WE is one of the largest independent communications and integrated marketing agencies in the world. We're all about people — both our clients and employees — and we believe in the power of communications to move audiences to positive action. Female-founded, female-led, and fiercely independent, WE has spent more than three decades helping world-class brands tell technology-led transformation stories that shift perceptions and change behavior.
Media Contact:
Jess Santini, Marketing Director
jsantini@codwordagency.com 
A photo accompanying this announcement is available at https://www.globenewswire.com/NewsRoom/AttachmentNg/5ffdea08-6dcc-443b-aff5-458c4ef39636