NEW YORK, NY , March 31, 2023 (GLOBE NEWSWIRE) -- TON Diamonds, a pioneering force in the world of blockchain-based art, has partnered with four visionary digital artists to showcase their latest masterpieces as NFTs on TON Blockchain. These cutting-edge artworks will take center stage at the highly-anticipated Focus Art Fair in the heart of New York City from May 18th to 21st. To elevate the excitement, the unique NFT-pieces crafted by the artists will also be available for auction exclusively on the TON Diamonds platform.

The curatorial concept of the exhibition is "The Flow of Consciousness: Exploring the Intersection of Art, Technology, and Spirituality", and it brings together four innovative artists, each exploring the intersection of these themes in their own unique way: Sarah McDaniel, Harry Yeff, Shane Fu, and Ellen Sheidlin. Together, these four artists offer a rich tapestry of ideas that explore the essence of human consciousness. They provide a glimpse into the nature of being, showcasing the power of art to express complex emotions and ideas that transcend language and culture. The exhibition invites audiences to reflect on the interplay of art, technology, and spirituality and the ways in which they contribute to our understanding of ourselves and the world around us.
TON Diamonds is a curated marketplace and auction house based on TON Blockchain where world-famous digital creators release their artworks in the form of NFTs. By leveraging cutting-edge blockchain technology, TON Diamonds seeks to bridge the gap between conventional art and the digital realm, empowering artists to flourish within the Web3 ecosystem. The platform offers a unique opportunity for collectors and art enthusiasts to acquire and invest in exclusive digital artworks created by some of the most talented creators from around the world.
NFTs and blockchain technology have been a game-changer for artists and collectors alike. For artists, NFTs offer a way to monetize their work in new and innovative ways, while also retaining ownership and control over their creations. Blockchain technology ensures that transactions are secure, transparent and tamper-proof, providing a level of trust and authenticity that is crucial in the art world. For collectors, NFTs offer a unique opportunity to invest in one-of-a-kind, exclusive digital artworks that can appreciate over time.

TON Diamonds has revolutionized the art market by leveraging NFT and blockchain technology and providing a seamless and user-friendly experience for buyers and sellers alike. The platform has been instrumental in democratizing the art industry and opening up new opportunities for traditional artists to expand their reach and monetize their creations in innovative ways. With a trading volume of 1,848,765 TON ($3,974,844.75 at the exchange rate at the moment of writing) in 2022, and a daily volume of 1,293 TON ($2,779.95 at the exchange rate at the moment of writing) in the past two weeks, TON Diamonds has established itself as a trusted and reliable platform for art enthusiasts and investors around the world. Moreover, with over 160,000 unique visitors from Russia, Ukraine, Belarus, USA, Germany, Kazakhstan, and other countries in 2022, TON Diamonds has demonstrated its ability to connect artists with a diverse and global audience, fostering a vibrant and dynamic community of creatives and collectors in the process.
"The Flow of Consciousness" is a unique and thought-provoking exhibition that promises to be both beautiful and challenging. We invite you to immerse yourself in the works of these four talented artists and explore the rich and complex themes that they offer. Don't miss out on this exclusive opportunity to witness the future of digital art!
Featured artists
Yonk (Sarah McDaniel)
Instagram (1.5M followers): https://www.instagram.com/krotchy/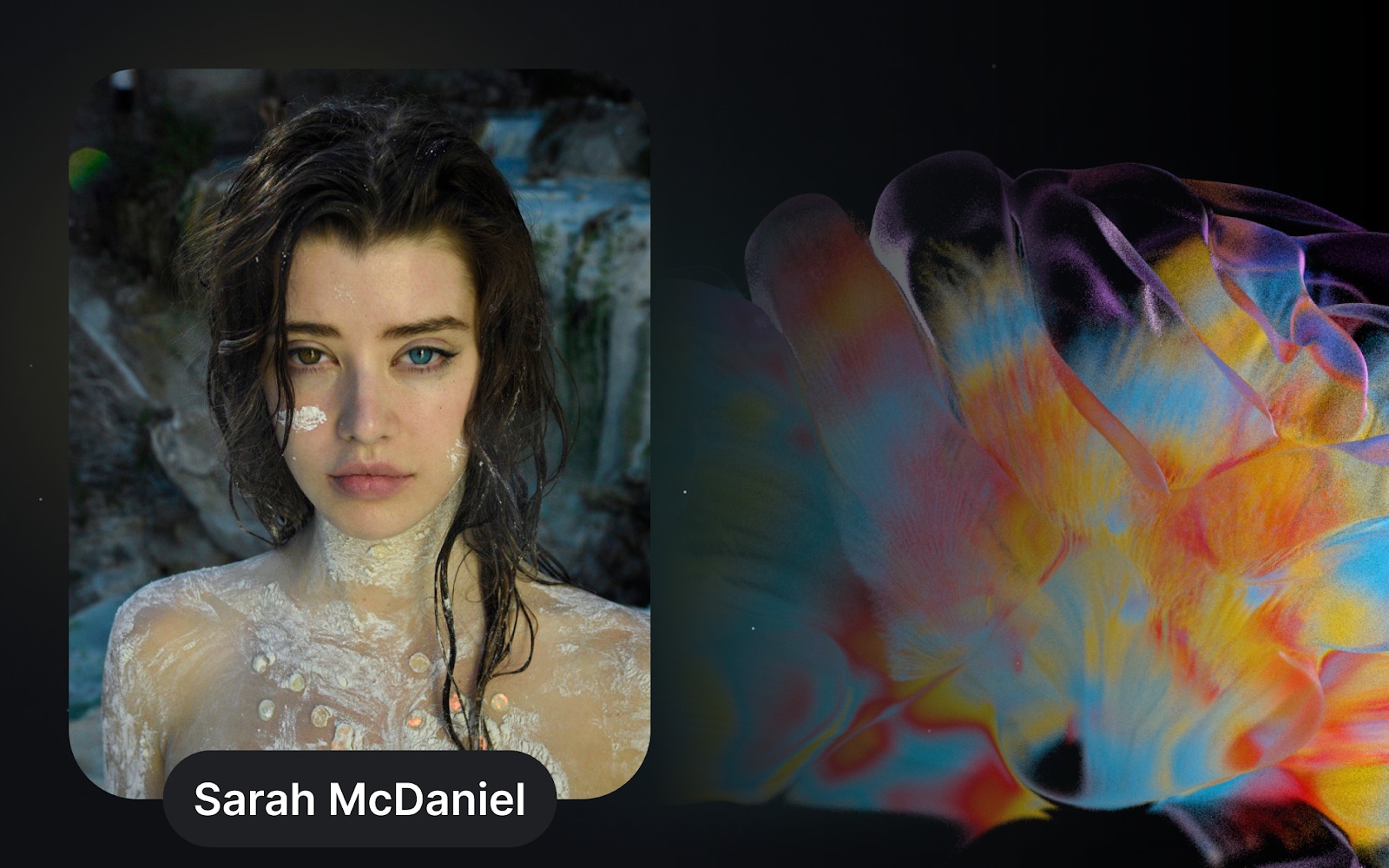 Yonk, a rising multimedia artist and former model, will be one of four visionary digital artists showcasing her latest masterpieces as NFTs on TON Blockchain. She is a designer and creator working with 2D, stop motion, and live action, married with CGI to tell abstract stories of the various subjects she explores in neuroscience, regenerative farming, dream states, and general curiosities regarding the zeitgeist. Sarah gained worldwide attention for her multi-colored eyes and appeared in music videos for artists such as Mark Ronson and G-Eazy, including Mark Ronson and Kevin Parker's music videos for Summer Breaking and Daffodils. Sarah also served as the cover girl for Playboy magazine's inaugural non-nude issue, published in March 2016. As an aspiring artist, she expresses her insatiable curiosity through her art, exploring the intersection of art, technology, and spirituality in her unique way.
Ellen Sheidlin
Instagram (4.3M followers): https://www.instagram.com/sheidlina/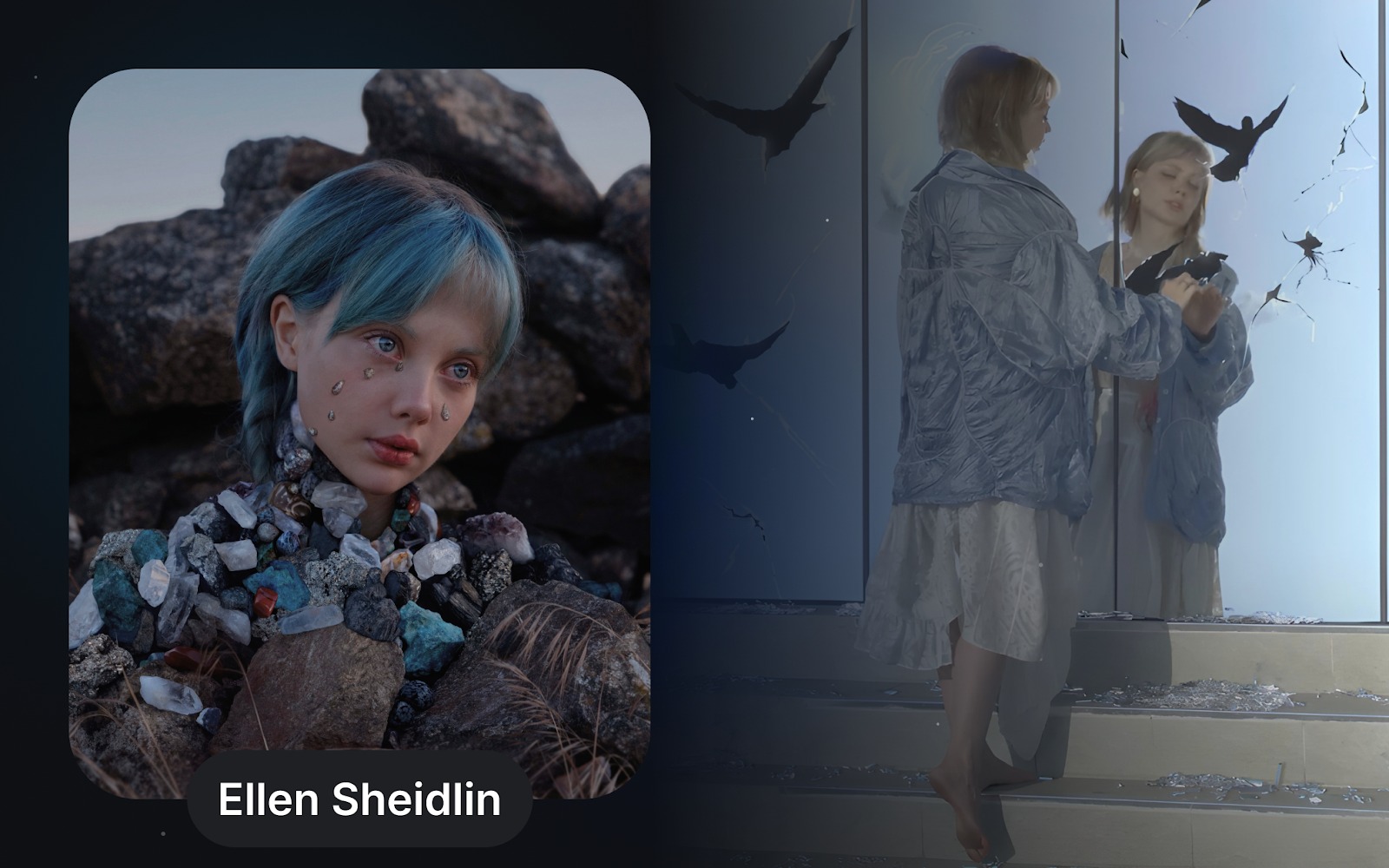 Ellen is a leading figure in the emerging art movement of survirtualism, which fuses elements of realism, virtuality, and dreamscapes to create a new form of expression. With a global following on Instagram, Ellen's innovative works have been featured in exhibitions around the world. Ellen has also collaborated with numerous renowned brands, including Nike, Estee Lauder, Moncler, Bacardi, BMW, Instagram, Swatch, Schwarzkopf, L'Oreal, Coca-Cola, Pepsico, using her artistic vision to bring a unique perspective to their products and campaigns.
Reeps100 (Harry Yeff) & Trung Bao
Instagram (125K followers): https://www.instagram.com/reepsone/

YouTube (195K followers): https://www.youtube.com/user/Reepsone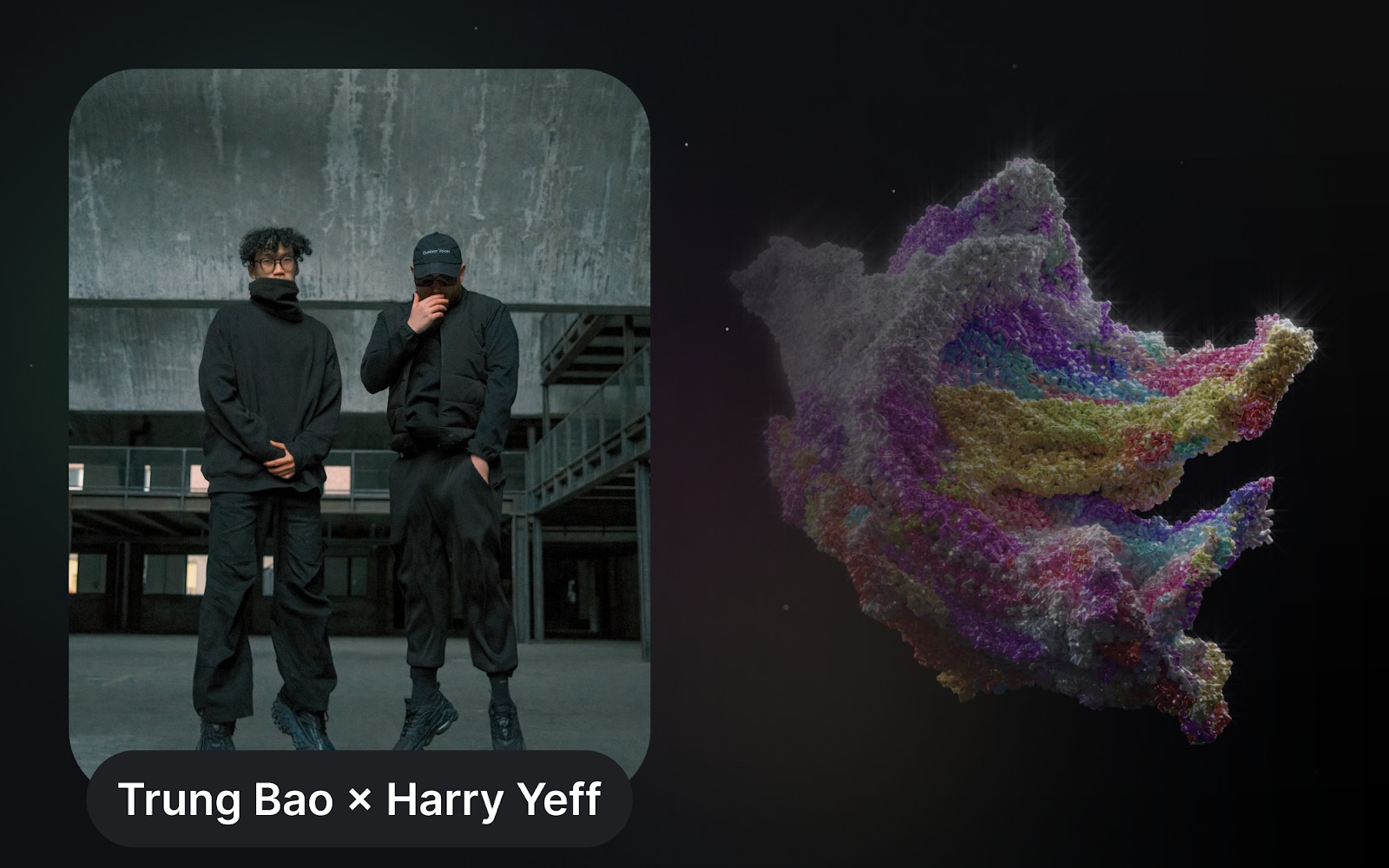 Harry Yeff, also known as Reeps100, is a globally celebrated artist and voice technology expert with a focus on voice and tech-based expression. With 15 years of experience in visualizing the human voice, Harry is renowned for his almost inhuman vocal range and performative installations, which have garnered over 100 million views online. His work explores the intersection of audio and visual cultures, transforming vocal music into tangible, physical form through a variety of mediums, including sculpture, film, and photography. Harry's latest project, VOICE GEMS : 1000 YEAR ARCHIVE, is a generative system and voice archive created in collaboration with Trung Bao, which collects Earth's most unique, remarkable, and vulnerable voices for preservation through digital one-of-a-kind gemstones and physical sculptures. The project also explores how such artifacts can utilize digital preservation for the next 1000 years and has collaborations with notable institutions like The World Economic Forum, Koenig Gallery, and The Berggruen Institute, expanding to AI synthetic voices and the voices of critically endangered species.
Shane Fu
Instagram (357K followers): https://www.instagram.com/shanef3d/ 
TikTok (567.7K followers): https://www.tiktok.com/@3dshane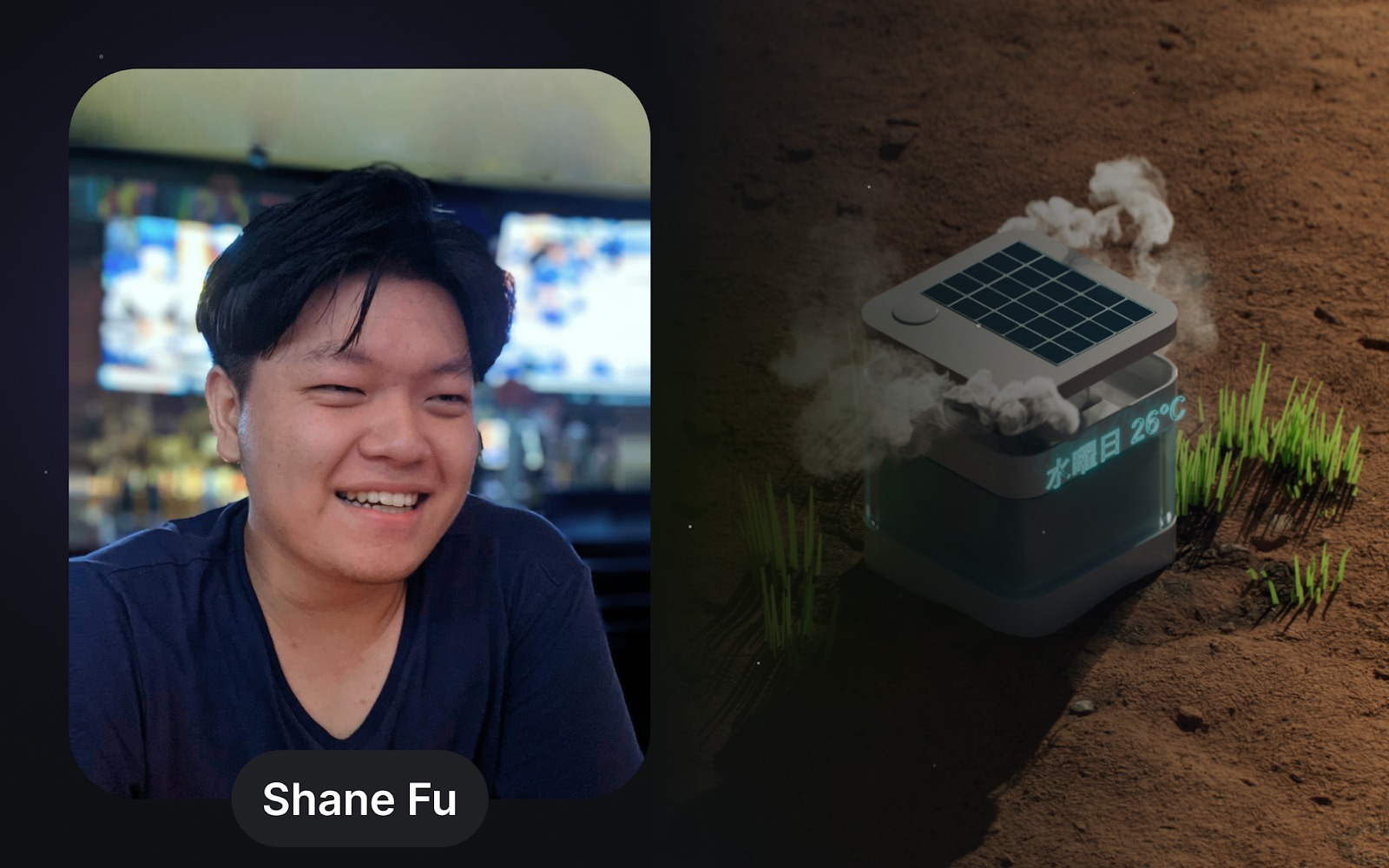 Shane is a digital artist who has combined his interest in mathematics and computer graphics to create a mesmerizing collection of hyperreal artwork. Inspired by the works of renowned artist Beeple, Shane has created a unique style that blends computer-generated graphics into realistic contexts, making them perfect for public art exhibits. His art defies the laws of physics, playing with space, time, and texture to create visual feasts that are both captivating and thought-provoking. Whether it's a still image or a moving animation, Shane's work is designed to stimulate the senses and spark the imagination of art lovers around the world.
Contact information:
Vladimir Makhov, Founder & CEO
Email: makhov@ton.vision
Telegram: @makhoov
Margarita Shostak, PR Manager
Email: margo@ton.vision
Telegram: @margaritastk

Social: