The leading employee meal benefits platform is honored in the Workplace Category for Sharebite Passport, a first-of-its-kind payment product that enables companies to subsidize meals for employees anywhere they work while alleviating food insecurity in local communities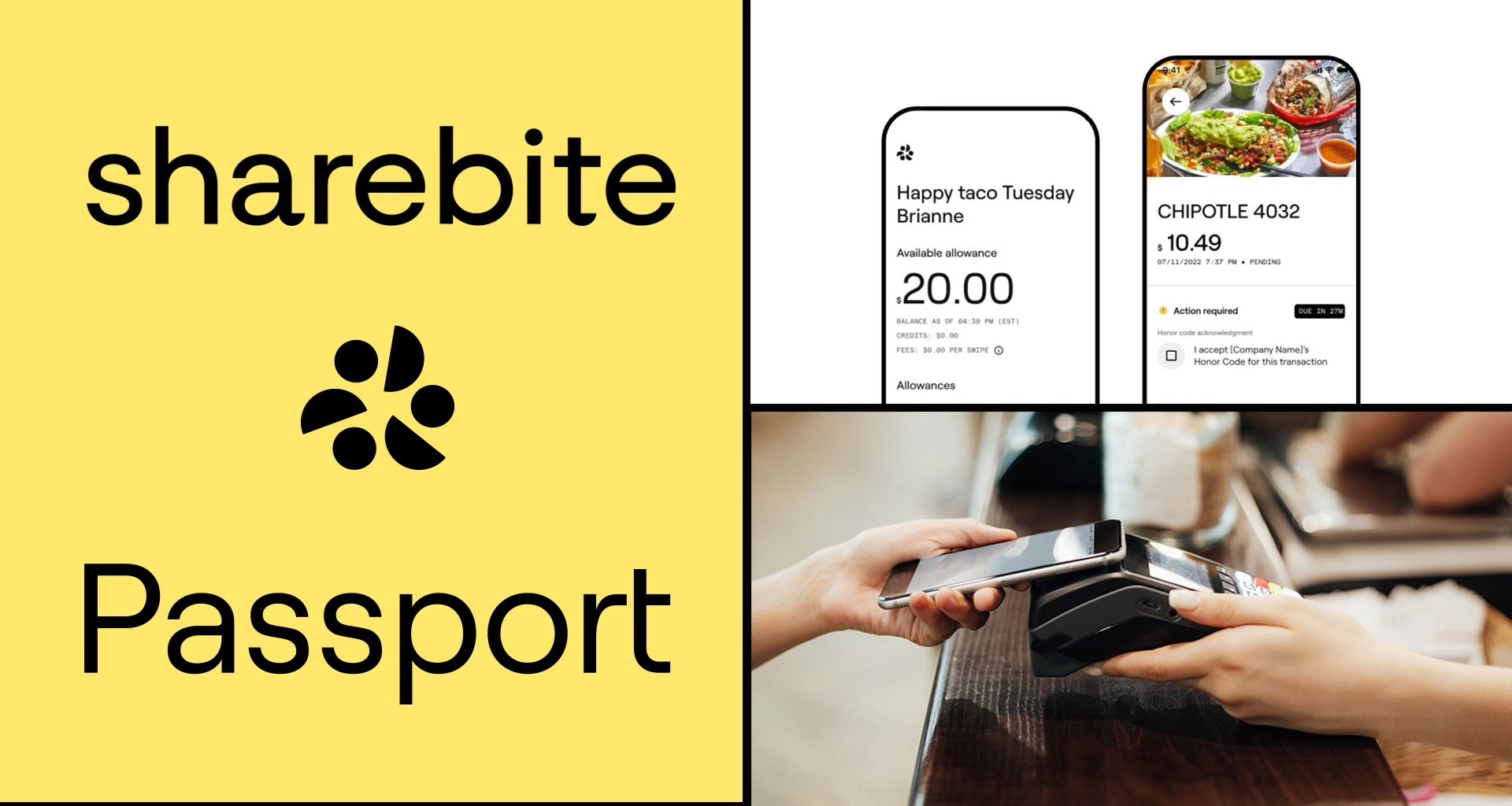 NEW YORK, May 04, 2023 (GLOBE NEWSWIRE) -- The winners of Fast Company's 2023 World Changing Ideas Awards were announced today, honoring sustainable designs, innovative products, bold social initiatives, and other creative projects that are changing the way we work, live, and interact with the world.
Sharebite's Passport product is a digital payment solution that companies can use to feed employees anywhere they work. Passport is accepted at every dining establishment and food delivery service that accepts Visa®. Clients of Sharebite include global investment banks, financial services institutions, law firms, technology, consumer products, professional sports teams, healthcare, agencies, architecture and consulting firms. Every transaction results in a meal donation by Sharebite to alleviate food insecurity in local communities. Through Sharebite's partnerships with City Harvest and Feeding America®, the mission-driven company has donated the equivalent of more than 5.6 million meals* to communities in need across the United States.
Fast Company received more than 2,200 nominations for this year's World Changing Ideas Awards. A panel of editors and reporters selected 561 honorees for recognition based on feasibility and the potential for greatest impact.
Sharebite exists to help companies create a better place to work for their employees through meal benefits. In doing so, we are harnessing the collective purchasing power of American companies and using it to drive value back to society and small businesses.
"In over 30 countries across the world, it's a common practice to provide employees with a daily meal voucher. In the US, employee meal benefits have become the new frontier for HR and total rewards leaders because they have a measurable impact on employee well-being and productivity. Sharebite's approach is to give companies maximum flexibility because where and how people work is constantly changing," says Sharebite's CEO and Co-founder Dilip Rao. "Sharebite is excited to be at the leading edge of this movement, and our mission-driven model is essential to creating sustainable impact, one meal at a time."
"It's thrilling to see the creativity and innovation that are so abundant among this year's honorees," says Fast Company editor-in-chief Brendan Vaughan. "While it's easy to feel discouraged by the state of the world, the entrepreneurs, companies, and nonprofits featured in this package show the limitless potential to address society's most urgent problems. Our journalists have highlighted some of the most exciting and impactful work being done today—from housing to equity to sustainability—and we look forward to seeing not only how these projects evolve but how they inspire others to develop solutions of their own."
About Sharebite
Sharebite is the leading employee meal benefits platform designed for the modern workforce. By combining team orders, flexible solutions, centralized meal allowances, curated restaurant choices, and community impact, Sharebite establishes a workplace culture of connection and service for clients, whether their employees are in the office, at home, or somewhere in between. Every transaction made on the Sharebite platform results in a donation to alleviate hunger in local communities via its partnerships with Feeding America® and City Harvest. Sharebite's corporate customers – ranging from global investment banks and law firms, to category-leading companies across nearly every industry – are automatically, and at no extra cost, part of the solution. Built for the enterprise, Sharebite is SOC2 compliant, and seamlessly connects to all major HRIS, ERP and Accounting Platforms. Sharebite has been recognized by Inc.'s Best in Business in 2021 and 2022, Crain's New York Business Best Place to Work in 2021 and 2022, and as a finalist for the U.S. Chamber of Commerce Foundation's Citizens Awards for companies operating as a force for good.
About the World Changing Ideas Awards: World Changing Ideas is one of Fast Company's major annual awards programs and is focused on social good, seeking to elevate finished products and brave concepts that make the world better. A panel of judges from across sectors choose winners, finalists, and honorable mentions based on feasibility and the potential for impact. With the goals of awarding ingenuity and fostering innovation, Fast Company draws attention to ideas with great potential and helps them expand their reach to inspire more people to start working on solving the problems that affect us all.
*$1 helps provide at least 10 meals secured by Feeding America® on behalf of local partner food banks.
A photo accompanying this announcement is available at https://www.globenewswire.com/NewsRoom/AttachmentNg/03892d20-b28f-46df-be3b-a90484afb4df