LANCASTER, Pa., May 24, 2023 (GLOBE NEWSWIRE) -- Known for transforming reclaimed materials into performance flooring that makes people's lives better, Ecore Int'l further reinforced its reputation as a leading innovator in the commercial flooring industry by earning two prestigious product awards and recognition as a sustainability leader. Ecore's Heritage Motivate performance vinyl tile (PVT) claimed top honors in the Resilient Flooring category of this year's IIDA/HD Expo Product Design Awards and was selected as a Sustainable Product category winner of the esteemed 2023 SEAL Business Sustainability Awards. Additionally, Ecore was recently recognized as a 'Leader' in the MindClick Sustainability Program, solidifying its position as a model of environmental excellence.

"It is always rewarding to be recognized for excellence in product design, especially when that recognition comes from industry experts and knowledgeable professionals who might use or specify our products," said Bo Barber, chief growth and innovation officer at Ecore. "Our Heritage PVT introduces a new class of flooring that redefines performance to include health and well-being. This recognition reinforces our unwavering commitment to meeting the ergonomic, safety, acoustic and sustainability needs that today's spaces require not only in hospitality, but in all commercial markets."
Offering the perfect combination of elegance, exceptional ergonomics and acoustical benefits, Heritage Motivate PVT is designed to be safer, quieter and more ergonomic than traditional luxury vinyl tile (LVT) products. This category-first PVT offering is a revolutionary addition to the resilient flooring market and features a fiberglass reinforced 2mm vinyl surface layer bonded to a 5mm vulcanized composition rubber (VCR) base layer. The 21mil wear layer provides commercial grade durability while the visuals of the surface layer offer variation among the planks for an in-demand look of realistic wood.
Heritage is comprised of 53% postconsumer recycled content and was engineered with a force reduction of 10.6% and an energy restitution of 66.7%. Available in ten natural wood tones, it is ideal for a full range of interior applications, including health and wellness facilities, offices, education, fitness spaces, schools, retail locations, hotels and living spaces, and provides a safe, durable surface that is easy to install and maintain, ergonomic underfoot and perfect for nearly any space.
IIDA/HD EXPO PRODUCT DESIGN AWARDS
Honoring innovation, environmental functionality and aesthetic or technical advancements in the hospitality industry, the IIDA/HD Expo Product Design Awards are held each year during the Hospitality Design Expo and Conference in Las Vegas. This year's entries were evaluated on aesthetics, cost and value, design innovation, environmental responsibility, need, technical progress and usage. Winners were selected by a panel of distinguished design industry professionals, including Architecture + Interiors Partner and Interior Designer, Courtney Wilson, IIDA.
"The entrants of this year's IIDA/HD Expo competition showcased the epitome of excellence in the product design industry, incorporating insights from past achievements and embracing the limitless potential of the future," said Wilson on behalf of the jury. "Their revolutionary approach to design has set a new benchmark for the industry and has given rise to a new wave of inspiration and innovation."
2023 SEAL BUSINESS SUSTAINABILITY AWARDS
The SEAL Business Sustainability Awards celebrate the global companies and leaders that make measurable contributions to sustainability and develop innovative initiatives that positively impact the environment. The 2023 entries were judged by a panel of experts from leading companies on impact metrics, innovation and uniqueness, and inspiration for users and competitors to adopt more environmentally conscious practices.
"Granularity was the theme of the 2023 Sustainability Awards," noted Matt Harney, Chairperson and Founder of SEAL Awards. "Across all industries and geographies, companies are going deep and granular – into materials, chemistry, processes, R&D and more – to generate sustainability improvements. Corporate ESG leadership – like our 2023 honorees have demonstrated – is absolutely needed to address our climate crisis."
MINDCLICK SUSTAINABILITY ASSESSMENT PROGRAM
In addition to these product awards and accolades, Ecore was recently recognized for environmental sustainability excellence as a 'Leader' in the MindClick Sustainability Program for the company's vinyl and composition rubber, calendered and composition rubber and composition rubber product families. As the foremost third-party assessment of suppliers to the U.S. hospitality industry and other vertical markets, MindClick rates the environmental health performance of manufacturers to help drive transparency and innovation across organizations and their supply chains to meet global demand for healthier products and environments.
The MindClick assessment program evaluates products based on environmental and social metrics such as energy use, carbon emissions, water reduction and human and labor rights. It also measures metrics such as carbon footprint from use and distribution, recyclability, sustainable materials use and avoidance of chemicals of high concern. Ratings are named in one of three levels: Starter, Achiever or Leader. Ecore was recognized as a Sustainability Leader for its exemplary use of environmental and social responsibility practices throughout the life cycle of all product lines – from material choice to end-of-life solutions – as well as all those carrying third party certifications.
"At its core, Ecore is committed to using resources wisely and in ways that have a positive impact on people and the planet," said Art Dodge III, CEO of Ecore. "We're proud of our Sustainability Leader rating and the opportunity to join a community that shares our goal of achieving a circular economy as we strive to lead in the reindustrialization of America with a fully circular, economically viable model."
A complete list of winners of this year's IIDA/HD Expo Product Design Awards and 2023 SEAL Business Sustainability Awards can be found online at www.iida.org/competition/2023-iida-hd-expo-product-design-awards and www.sealawards.com/sustainability-award-2023, respectively. To learn more about Ecore's commitment to sustainability, visit www.ecoreintl.com/circularity/environmental-responsibility. For more information about Heritage Motivate PVT, visit www.ecoreintl.com.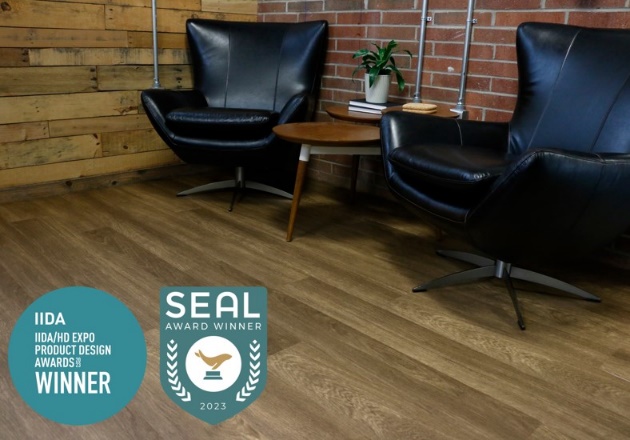 About Ecore:
From the patient room to the classroom to the weight room to the playground, Ecore empowers human performance with safe, quiet, and ergonomic surfaces. Our team is driven by the question: can a floor do more? For Ecore, the answer is "yes." We transform reclaimed materials into performance products that make people's lives better and strive for a planet free of rubber waste. Built on a legacy that began in 1871, our team designs innovative solutions for many industries, including healthcare, hospitality, education, retail, wellness, sports, and fitness. Ecore, headquartered in Lancaster, PA, serves customers in more than 75 countries. Learn more at www.ecoreintl.com.
A photo accompanying this announcement is available at https://www.globenewswire.com/NewsRoom/AttachmentNg/91fa6604-4645-4b57-bee5-12fd0a552336