Global specialist named a Strategic Challenger in 2023 Fosway 9-Grid™' for Digital Learning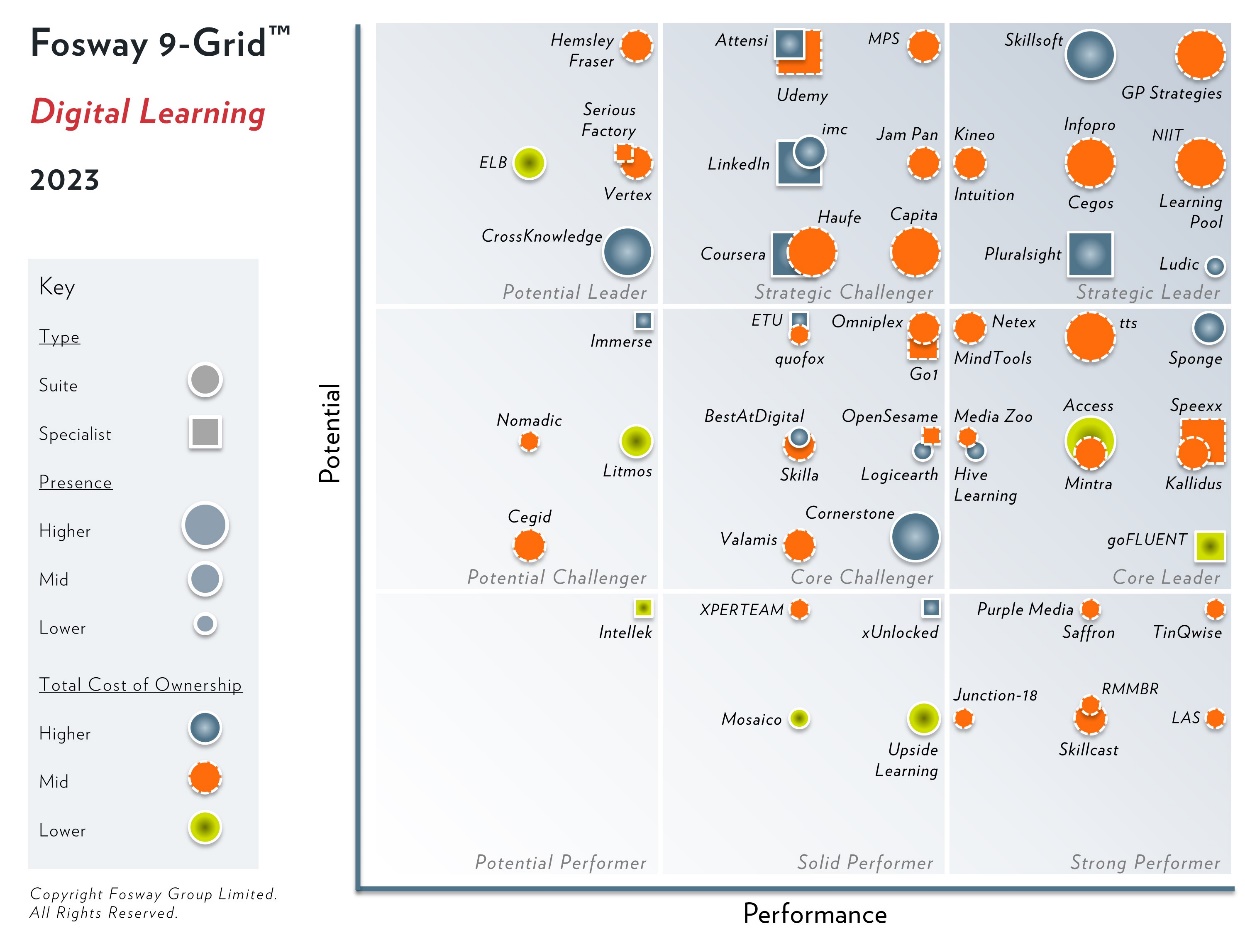 COLOGNE, Germany, May 26, 2023 (GLOBE NEWSWIRE) -- Gamified learning specialist Attensi has been recognised as a leading player in HR training by one of the sector's most respected voices.

Attensi has joined the 2023 Fosway 9-Grid™ for Digital Learning with a high rating for 'Potential', based on the "scope, capability and sophistication" of the platform and services.
Krister Kristiansen, Chief Commercial Officer at Attensi, said: "This is great recognition for our first appearance and we're humble, but excited about this recognition."
"Fosway is Europe's leading HR industry analyst, so this recognition means a lot to us."
"Fosway research shows that immersive learning is driving real business impact for corporates," said David Wilson, CEO, Fosway Group. "Attensi's Strategic Challenger position on the 2023 Fosway 9-Grid™ for Digital Learning reflects the company's focus on innovation and partnering that brings learning content to life in a meaningful and impactful way."
The report for the 2023 Fosway 9-Grid™ for Digital Learning explains that the move towards remote and hybrid working is driving demand for digital learning.
It said: "We are all digital learners now!"
"One of the key drivers of this is the acceleration in hybrid and virtual working. Nearly half of all organisations have had to adapt their approach to support a hybrid workforce."
Fosway warns that many learning teams still struggle to measure their impact.
"Key to protecting learning budgets is the ability of learning teams to articulate their value," the report said.
"Pressure continues to grow on learning teams to show that their solutions add real value. However, measuring systems continue to be a systemic weakness with little or no progress being made."
"Despite the growing availability of business data and expectations of business decisions to be intelligence-led, learning is still a long way from understanding let alone proving its value proposition."
"Less than 10% of learning teams say they are effective at measuring the impact of their programmes."
Kristiansen said: "This is a crucial differentiator for Attensi."
Data analytics are built into the Attensi model. Businesses – including managers and employees – can see at a glance where knowledge gaps lie, and through AI and gamification Attensi solutions focus on and develop those areas for each employee.
Crucially for learning teams who must justify every penny and cent spent on L&D, the analytics can also show a direct correlation between learning success and real-life key performance indicators (KPIs) - including financial performance; customer experience; and staff satisfaction and retention.
Kristiansen said: "We're dedicated to helping people become exceptional at their jobs and to make a big impact at work. This recognition helps us reach more businesses with that message."
"The fact that we can show a strong link between great, memorable training and business results makes Attensi a leader in this market."
ABOUT ATTENSI
Attensi is the world's leading provider of high impact gamified training – the most effective way to upskill your people with significant improvements in your KPIs. Engage your staff with immersive 3D training, powered by the best insights from human psychology, learning, and gaming.
Whether on mobile, desktop, or VR, empower your people to master new skills with training they will want to complete and repeat. Recreate their working environments with immersive 3D graphics, realistic scenarios, and interactive dialogues with voice-acted avatars to test their knowledge. All in a safe, learning-by-doing environment.
Attensi has delivered gamified simulation training in over 150 countries and more than 50 languages. Our customers include Microsoft, Equinor, Circle K, Bosch Siemens Home Appliances, NHS, Accenture, Wagamama's, Hiscox, Scatec Solar and many more. Attensi is headquartered in Oslo, Norway, with offices in London, Köln, Boston and Palo Alto.
You can follow Attensi on LinkedIn for updates.
MEDIA CONTACT
Anthony Wong | anthony.wong@attensi.com
A photo accompanying this announcement is available at https://www.globenewswire.com/NewsRoom/AttachmentNg/b57231cc-95bf-41d6-80bf-b07f51ca60dd