July 14, 2023, Oslo, Norway: Acquisition is in progress on PGS' inaugural contract for ultra-high-resolution 3D windfarm site characterization.

PGS offers solutions to the ongoing energy transition through its New Energy business area. By building on its subsurface and operational expertise and assets, PGS aims to develop New Energy into a significant business.
In 2022, the Company established a strong position in the carbon storage geoservices market and now PGS is taking the next step by entering the offshore wind market. Earlier this year PGS was awarded its first site characterization acquisition contract by partners bp and EnBW, for the ongoing development of the Morgan and Mona offshore wind farms in the Irish Sea. These projects could help achieve the UK's ambition to generate 50GW of offshore wind power by 2030.
The 3D vessel Sanco Swift mobilized for the survey in April and is expected to complete acquisition near the end of July. The subsurface data is acquired with PGS' market-leading ultra-high-resolution 3D (UHR3D) P-cable system which provides significantly more detailed subsurface data for shallow targets, compared to traditional seismic acquisition systems. The data is continuously quality controlled and processed by PGS' experienced Imaging team offshore and finalized onshore shortly after completion of acquisition.
"Our UHR3D system acquires near-surface data significantly more efficiently than conventional solutions and builds on our geophysical expertise and vessel operation experience. By meeting our client's objectives in our first ultra-high-resolution windfarm site characterization project, I am increasingly confident that our geophysical approach to understand the shallow subsurface layers has a proven market fit. Our business is ready to be scaled further to increase our market share in offshore wind site characterization," says Berit Osnes, Executive Vice President New Energy in PGS.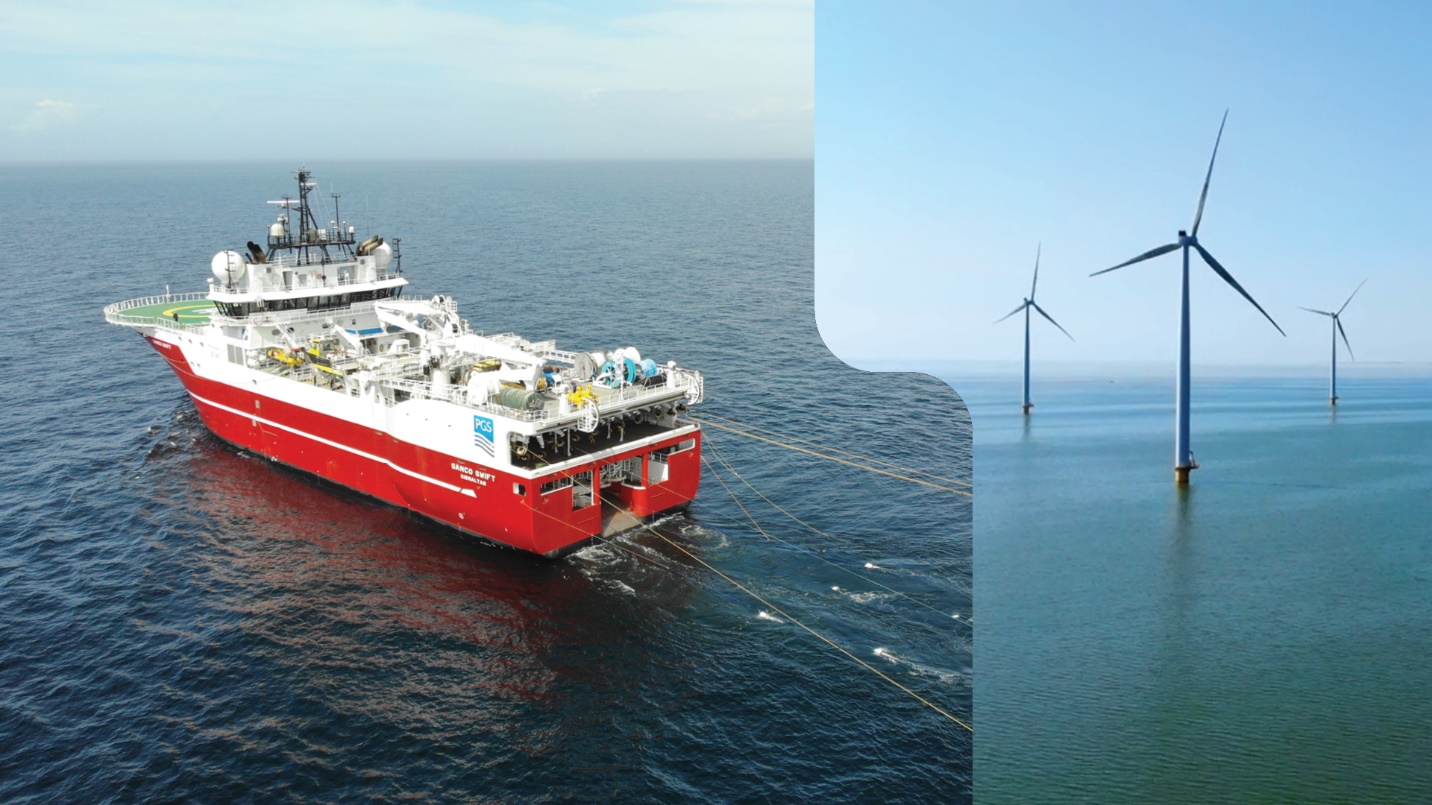 FOR DETAILS PGS, CONTACT:
Bård Stenberg, VP IR & Corporate Communication
Mobile: +47 99 24 52 35

About PGS:
PGS ASA and its subsidiaries ("PGS" or "the Company") is a fully integrated marine geophysical company that provides a broad range of seismic and reservoir services, including data acquisition, imaging, interpretation, and field evaluation. Our services are provided to the oil and gas industry, as well as to the broader and emerging new energy industries, including carbon storage and offshore wind. The Company operates on a worldwide basis with headquarters in Oslo, Norway and the PGS share is listed on the Oslo stock exchange (OSE: PGS). For more information on PGS visit www.pgs.com.
About bp:
bp's purpose is to reimagine energy for people and our planet. It has set out an ambition to be a net-zero company by 2050, or sooner and help the world get to net zero, and a strategy for delivering on that ambition. We're focused on delivering our transformation into an integrated energy company, helping to provide the energy the world needs today and investing in the energy transition. Our strategy will reshape our business as we decarbonise and diversify into different forms of energy such as renewables, biofuels, and hydrogen. We already have substantial onshore wind and solar portfolios and have recently announced an intent to scale our renewable energy capacity to 20GW by 2025 and 50GW by 2030. Offshore wind will be a major element of this growth, and we have already entered the offshore wind market in the UK and the US, two of the world's most important regions.
About EnBW:
Energie Baden-Württemberg AG (EnBW) is one of the largest energy supply companies in Germany and Europe, with a workforce of 27,000 employees supplying energy to around 5.5 million customers. Installed renewable energy capacity will account for 50 percent of EnBW's generating portfolio by the end of 2025. EnBW was among the pioneers in off shore wind power with its Baltic 1 wind farm in the Baltic Sea. EnBW has developed, constructed and operates four off shore wind farms in Germany with a total installed capacity of 945MW. Another 960MW from the off shore wind farm He Dreiht are currently under development; the final investment decision in March 2023 cleared the way for the start of construction.
***
The information included herein contains certain forward-looking statements that address activities, events or developments that the Company expects, projects, believes or anticipates will or may occur in the future. These statements are based on various assumptions made by the Company, which are beyond its control and are subject to certain additional risks and uncertainties. The Company is subject to a large number of risk factors including but not limited to the demand for seismic services, the demand for data from our multi-client data library, the attractiveness of our technology, unpredictable changes in governmental regulations affecting our markets and extreme weather conditions. For a further description of other relevant risk factors we refer to our Annual Report for 2022. As a result of these and other risk factors, actual events and our actual results may differ materially from those indicated in or implied by such forward-looking statements. The reservation is also made that inaccuracies or mistakes may occur in the information given above about current status of the Company or its business. Any reliance on the information above is at the risk of the reader, and PGS disclaims any and all liability in this respect.
--END--