VANCOUVER, British Columbia, Sept. 26, 2023 (GLOBE NEWSWIRE) -- American Lithium Corp. ("American Lithium" or the "Company") (TSX-V:LI | NASDAQ:AMLI | Frankfurt:5LA1) is pleased to announce a new lithium discovery from the initial drill hole completed at one of the key discovery targets previously identified from 2021 field work conducted near the Community of Quelcaya. Further holes have been drilled near this discovery with identical geology to the discovery hole and full assays expected shortly.

The Quelcaya exploration project comprises 3 areas of mapped surface lithium mineralization located 5.5 to 11 km west of the Company's Falchani lithium deposit near the village of Quelcaya in Puno, southeastern Peru (see Figure 1 – Quelcaya – Falchani Drill Platform Location Map, below). Quelcaya was the first of three exploration drilling permits submitted by the Company, which was granted by the Peruvian Ministry of Energy and Mines (MINEM) in May 2023. Drilling continues in and around Quelcaya with 6 drill hole platforms planned in total, each with multiple holes.
Highlights:
Large lithium district emerging on West side of Macusani Plateau;
Large-scale lithium mineralized zone 222.5 metres thick, averaging 1,560 ppm Li at 119.1 m downhole; maximum 1 m interval sample with up to 2,668 ppm Li at 335 m;
Cesium grades typically higher than average cesium grades in the main lithium bearing mineralization at Falchani with similar potassium grades;
Different style of mineralization from Falchani with significant potential for pre concentration; initial metallurgical work highlights potential to increase head-grade through standard techniques;
Further metallurgical work on pre-concentration and leachability continues.

Simon Clarke, CEO of American Lithium, states, "We are very excited with this discovery drill hole at Quelcaya. The lithium mineralization is in rocks that are texturally and geologically distinct from the Falchani tuff mineralization, but are obviously related to the same 8-million-year-old volcanic activity responsible for Falchani. The potential scale of this area of lithium mineralization is very large given the thickness seen in the discovery hole. The potential to pre-concentrate the lithium in this style of mineralization is also very encouraging as we start to analyze the leachability and economic potential. This discovery also validates our thesis that the Macusani Plateau hosts more than just the Falchani lithium deposit and has the potential to become a major lithium district, which we control."
Q26-TV Quelcaya Discovery Hole:
Platform Q26 drill hole Q26-TV (vertical), the first hole drilled on the 3 lithium anomalies comprising the Quelcaya area, intersected a long interval of lithium mineralization in subvolcanic to aplitic, fine grained peraluminous intrusive granitic rocks, under barren, to weakly mineralized rhyolitic cover rocks (see Table 1 – Drill Hole Q26-TV results, and Figure 1 – Quelcaya – Falchani Drill Platform Location Map, both below);
Aplitic micro-granite was intersected from 119.1 m to 341.6 m (222.5 m true thickness). This interval averages 1,560 ppm Lithium ("Li"); 643 ppm Cesium ("Cs"); 1,049 ppm Rubidium ("Rb") and 3.32% Potassium ("K") with maximum 1 m interval sample of 2,668 ppm Li at 335 m;
The crystalline nature of this new lithium-rich granitoid indicates that non-lithium-bearing phases, notably quartz and alkali feldspars should be able to be eliminated through pre-concentration/floatation work and lab trials are on-going;
Leaching test work will be initiated on the whole rock samples, as well as any upgraded material to assess the amenability to the Falchani sulfuric acid flow sheet conditions;
An interesting 8 m interval (at 61-69 m) of Cesium-rich mineralization was intersected in the overlying rhyolitic cover rocks averaging 1,686 ppm Cs, but with depleted Li (447 ppm); Rb (411 ppm) and severely depleted K (1.44%); this is unusual as the rhyolite cover rocks do not usually contain highly anomalous Cs and are generally fairly homogeneous in all major and trace elements;
From 341.6 m to 414.6 m (end of hole) coarser grained alkaline intrusive rocks interpreted to be quartz monzo-diorite to grano-diorite were intersected. This interval averages very low Li (130 ppm); Cs (270 ppm); Rb (403 ppm) but increased K (4.2%). This rock is of unknown age but is interpreted to be much older basement rocks to the overlying 8-million-year-old and younger, Macusani-Falchani volcanic-subvolcanic rocks.
Figure 1 – Quelcaya – Falchani Drill Platform Location Map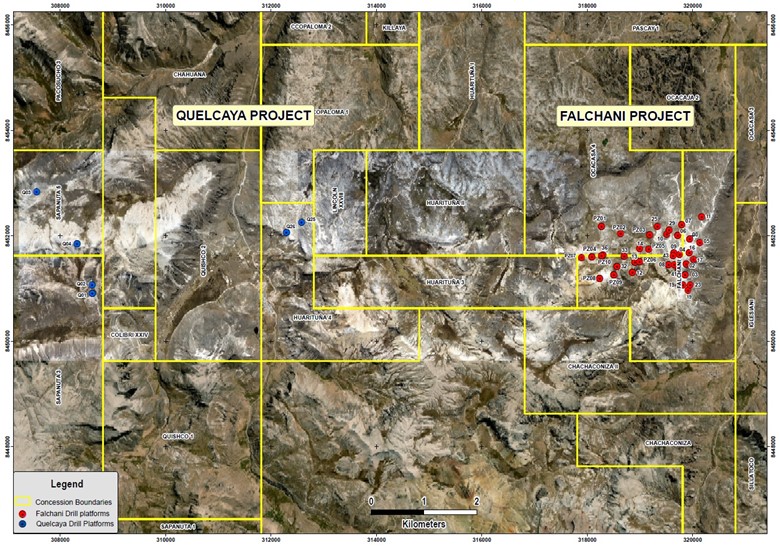 Table 1 – Drill Hole Q26-TV results
| | | | | | | | |
| --- | --- | --- | --- | --- | --- | --- | --- |
| Q26-TV – 414.6 m total depth – Vertical | From (m) | To (m) | Thickness (m) | Li (ppm) | Cs (ppm) | Rb (ppm) | K (%) |
|   | 119.1 | 341.6 | 222.5 | 1,560 | 643 | 1,049 | 3.32 |
|   | 61.0 | 68.0 | 8.0 |   | 1,686 |   |   |
| Maximum Li interval | 335.0 | 336.0 | 1.0 | 2,668 |   |   |   |
| Maximum Cs interval | 62.0 | 63.0 | 1.0 |   | 2,220 |   |   |
| Maximum Rb interval | 316.0 | 317.0 | 1.0 |   |   | 1,344 |   |
Quality Assurance, Quality Control and Data Verification
Diamond drilling is being conducted using Company-owned drill rigs with local contract personnel. Drill core samples are cut longitudinally with a diamond saw, with one-half of the core placed in sealed bags and shipped to Certimin's sample analytical laboratory in Lima for sample preparation, processing and ICP-MS/OES multi-element analysis. Certimin is an ISO 9000 certified assay laboratory. The Company's Qualified Person for the drill program, Mr. Ted O'Connor, has verified the data disclosed, including drill core, sampling and analytical data in the field and laboratory. The program is designed to include a comprehensive analytical quality assurance and control routine comprising the systematic use of Company inserted standards, blanks and field duplicate samples, internal laboratory standards and has also included check analyses at other accredited laboratories. Downhole thicknesses for vertical drill holes are considered accurate true thickness intersections.
Qualified Person
Mr. Ted O'Connor, P.Geo., Executive Vice President of American Lithium, and a Qualified Person as defined by National Instrument 43-101 Standards of Disclosure for Mineral Projects, has reviewed and approved the scientific and technical information contained in this news release.
About American Lithium
American Lithium is actively engaged in the development of large-scale lithium projects within mining-friendly jurisdictions throughout the Americas. The Company is currently focused on the continued development of its strategically located TLC Lithium Claystone Project in the richly mineralized Esmeralda lithium district in Nevada, as well as continuing to advance its Falchani Hard-rock Lithium Project and Macusani Uranium Project in southeastern Peru. All three projects, TLC, Falchani and Macusani have been through robust preliminary economic assessments, exhibit strong significant expansion potential and enjoy strong community support. Pre-feasibility work is well advanced at Falchani and has commenced at TLC.
For more information, please contact the Company at info@americanlithiumcorp.com or visit our website at www.americanlithiumcorp.com
Follow us on Facebook, Twitter and LinkedIn.
On behalf of the Board of Directors of American Lithium Corp.
"Simon Clarke"
CEO & Director
Tel: 604 428 6128
For Media Inquiries:
Nancy Thompson
Vorticom, Inc.
212-532-2208
Neither the TSX Venture Exchange nor its Regulation Services Provider (as that term is defined in the policies of the TSX Venture Exchange) accepts responsibility for the adequacy or accuracy of this press release.
Cautionary Statement Regarding Forward Looking Information
This news release contains certain forward-looking information and forward-looking statements (collectively "forward-looking statements") within the meaning of applicable securities legislation. All statements, other than statements of historical fact, are forward-looking statements. Forward-looking statements in this news release include, but are not limited to, statements regarding the ability to appeal the judicial ruling, the anticipated completion of pre-feasibility work, and any other statements regarding the business plans, expectations and objectives of American Lithium. Forward-looking statements are frequently identified by such words as "may", "will", "plan", "expect", "anticipate", "estimate", "intend", "indicate", "scheduled", "target", "goal", "potential", "subject", "efforts", "option" and similar words, or the negative connotations thereof, referring to future events and results. Forward-looking statements are based on the current opinions and expectations of management and are not, and cannot be, a guarantee of future results or events. Although American Lithium believes that the current opinions and expectations reflected in such forward-looking statements are reasonable based on information available at the time, undue reliance should not be placed on forward-looking statements since American Lithium can provide no assurance that such opinions and expectations will prove to be correct. All forward-looking statements are inherently uncertain and subject to a variety of assumptions, risks and uncertainties, including risks, uncertainties and assumptions related to: American Lithium's ability to achieve its stated goals;, which could have a material adverse impact on many aspects of American Lithium's businesses including but not limited to: the ability to access mineral properties for indeterminate amounts of time, the health of the employees or consultants resulting in delays or diminished capacity, social or political instability in Peru which in turn could impact American Lithium's ability to maintain the continuity of its business operating requirements, may result in the reduced availability or failures of various local administration and critical infrastructure, reduced demand for the American Lithium's potential products, availability of materials, global travel restrictions, and the availability of insurance and the associated costs; the judicial appeal process in Peru, and any and all future remedies pursued by American Lithium and its subsidiary Macusani to resolve the title for 32 of its concessions; the ongoing ability to work cooperatively with stakeholders, including but not limited to local communities and all levels of government; the potential for delays in exploration or development activities; the interpretation of drill results, the geology, grade and continuity of mineral deposits; the possibility that any future exploration, development or mining results will not be consistent with our expectations; risks that permits will not be obtained as planned or delays in obtaining permits; mining and development risks, including risks related to accidents, equipment breakdowns, labour disputes (including work stoppages, strikes and loss of personnel) or other unanticipated difficulties with or interruptions in exploration and development; risks related to commodity price and foreign exchange rate fluctuations; risks related to foreign operations; the cyclical nature of the industry in which American Lithium operates; risks related to failure to obtain adequate financing on a timely basis and on acceptable terms or delays in obtaining governmental approvals; risks related to environmental regulation and liability; political and regulatory risks associated with mining and exploration; risks related to the uncertain global economic environment and the effects upon the global market generally, any of which could continue to negatively affect global financial markets, including the trading price of American Lithium's shares and could negatively affect American Lithium's ability to raise capital and may also result in additional and unknown risks or liabilities to American Lithium. Other risks and uncertainties related to prospects, properties and business strategy of American Lithium are identified in the "Risk Factors" section of American Lithium's Management's Discussion and Analysis filed on May 29, 2023, and in recent securities filings available at www.sedar.com. Actual events or results may differ materially from those projected in the forward-looking statements. American Lithium undertakes no obligation to update forward-looking statements except as required by applicable securities laws. Investors should not place undue reliance on forward-looking statements.
Cautionary Note Regarding Macusani Concessions
Thirty-two of the 169 concessions held by American Lithium's subsidiary Macusani, are currently subject to Administrative and Judicial processes (together, the "Processes") in Peru to overturn resolutions issued by INGEMMET and the Mining Council of MINEM in February 2019 and July 2019, respectively, which declared Macusani's title to 32 of the concessions invalid due to late receipt of the annual validity payments. In November 2019, Macusani applied for injunctive relief on 32 concessions in a Court in Lima, Peru and was successful in obtaining such an injunction on 17 of the concessions including three of the four concessions included in the Macusani Uranium Project PEA. The grant of the Precautionary Measure (Medida Cautelar) has restored the title, rights and validity of those 17 concessions to Macusani until a final decision is obtained at the last stage of the judicial process. A Precautionary Measure application was made at the same time for the remaining 15 concessions and was ultimately granted by a Court in Lima, Peru on March 2, 2021 which has also restored the title, rights and validity of those 15 remaining concessions to Macusani, with the result being that all 32 concessions are now protected by Precautionary Measure (Medida Cautelar) until a final decision on this matter is obtained at the last stage of the judicial process. The favourable judge's ruling confirming title to all 32 concessions from November 3, 2021 represents the final stage of the current judicial process. However, this ruling has recently been appealed by MINEM and INGEMMET. American Lithium has no assurance that the outcome of these appeals will be in the Company's favour. 
A photo accompanying this announcement is available at https://www.globenewswire.com/NewsRoom/AttachmentNg/b66bba3f-0625-4f47-9a19-4de352065683