Drillhole SM23-201: 21.6 g/t Au over 5.1 m in the Ramp Portal Zone (Fig. 2)

Drillhole SM23-308: 38.5 g/t Au over 7.4 m Down-plunge of Stock West (Fig. 1)
Drillhole SM23-281: 98.8 g/t Au over 0.9 m in Footwall Timiskaming Sediments (Fig. 3)
TORONTO, Oct. 03, 2023 (GLOBE NEWSWIRE) -- McEwen Mining Inc. (NYSE: MUX) (TSX: MUX) is pleased to report new assay results from the Stock Property, part of the Fox Complex near Timmins, Ontario.
Geological investigations have identified two principal plunge directions (or vectors) controlling mineralization at Stock (see Figure 1) with both appearing to originate at the "Ramp Portal Zone". Results from 21 diamond drillholes (see Table 1) are reported for three key target areas at our Stock West Project: "Ramp Portal Zone", "Shallow Plunge" and "Steep Plunge" as shown on Figure 1. In addition, there are two intriguing results which suggest other directions for the Stock resource to grow.
Figure 1: Longitudinal section looking North, extending from Stock West to East of the historical Stock Mine headframe, referencing key target areas: "Ramp Portal Zone" (Figure 2), "Shallow Plunge" and "Steep Plunge"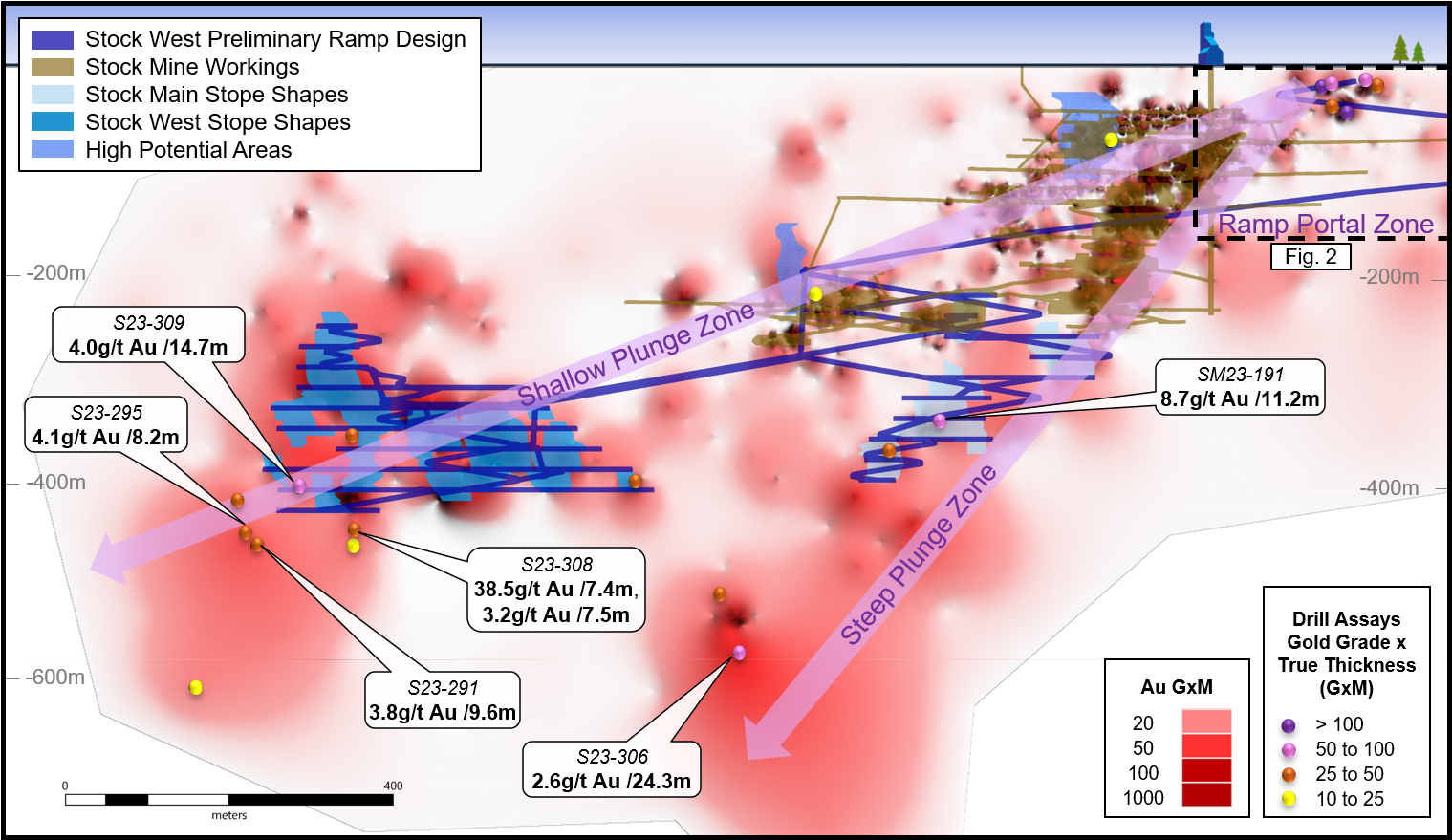 Ramp Portal Zone
Drilling continues to encounter good grades and widths at shallow depths, in proximity to the surface entrance portal of the ramp that will be driven to access the Stock West deposit. Development of the ramp is planned to start in December of this year.
The significance of this mineralization is the prospect of very early mining and cash flow, making the development of the Stock ramp partially self-funding. Some of the notable gold assay results from this zone include drillholes:
 
SM23-180:            

SM23-193:          

SM23-201:          

SM23-204:          

SM23-CPS-09:    
6.2 g/t Au over 22.7 m

9.5 g/t Au over 11.3 m

21.6 g/t Au over 5.1 m

12.0 g/t Au over 12.4 m

12.5 g/t Au over 10.9 m
(capped 5.0 g/t Au over 22.7 m)

(capped 7.4 g/t Au over 11.3 m)

(capped 16.6 g/t Au over 5.1 m)

(capped 9.1 g/t Au over 12.4 m)

(capped 4.2 g/t Au over 10.9 m)
 
All these assay results occurred very close to the surface, between depths of 23 to 73 meters down hole (see Figure 2). The wide intercept seen in SM23-180 may represent multiple mineable mineralized zones since the more typical true widths for the ramp portal zone are generally 10-15 meters.
Figure 2: Longitudinal section looking North - Ramp Portal Zone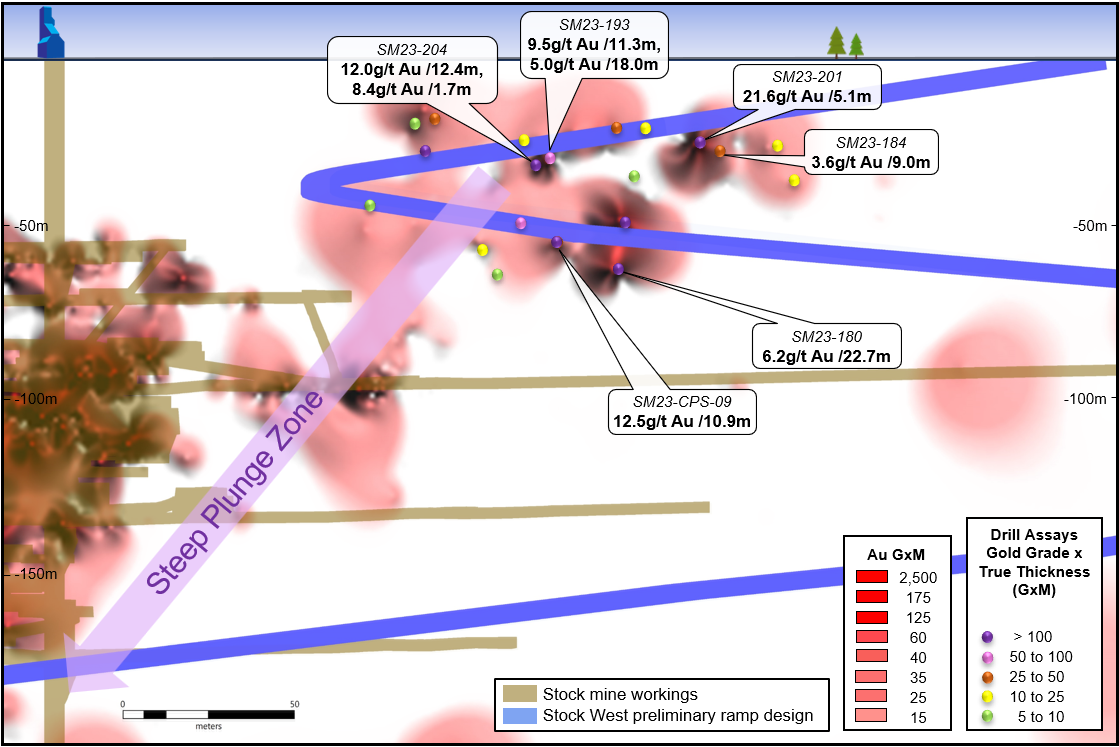 Shallow Plunge Zone
Drilling has encountered good-grade mineralization that continues to the Southwest beyond the current Stock West resource, as illustrated by assay results from drillholes S23-308: 38.5 g/t Au over 7.4 m (3.6 g/t Au over 7.4 m capped) and S23-309: 4.0 g/t Au over 14.7 m. Other examples for this area include S23-291: 3.8 g/t Au over 9.6 m and S23-295: 4.1 g/t Au over 8.2 m (see Figure 1). These results together with the good grades found near the Ramp Portal Zone suggest there is potential to not only expand the Stock West resource base but also shorten the payback period and extend the mine life that was outlined in the January 2022 Preliminary Economic Assessment for the Fox Complex (see press release dated January 26th, 2022).
Steep Plunge Zone
This zone represents the longer-term potential for the Stock West Project (see Figure 1) due to its depth. Drillhole S23-306 returned 2.6 g/t Au over 24.3 m, 60 meters down-dip of previously released drillhole S21-202, which graded 4.3 g/t Au over 20.3 m (see press release dated December 21st, 2021). The observed widths continue to impress and suggest that the mineralization continues deeper.
Another good result was seen in drillhole SM23-191 (see Figure 1), higher up in the same zone returned 8.7 g/t Au over 11.2 m. This intercept lies within a planned early mining horizon, which is down-dip of the historical Stock Mine and reinforces our confidence in this mineralized zone.
Intriguing Results
Figure 3: Cross section (looking East-northeast) showing results which could suggest further directions for growing the Stock resource.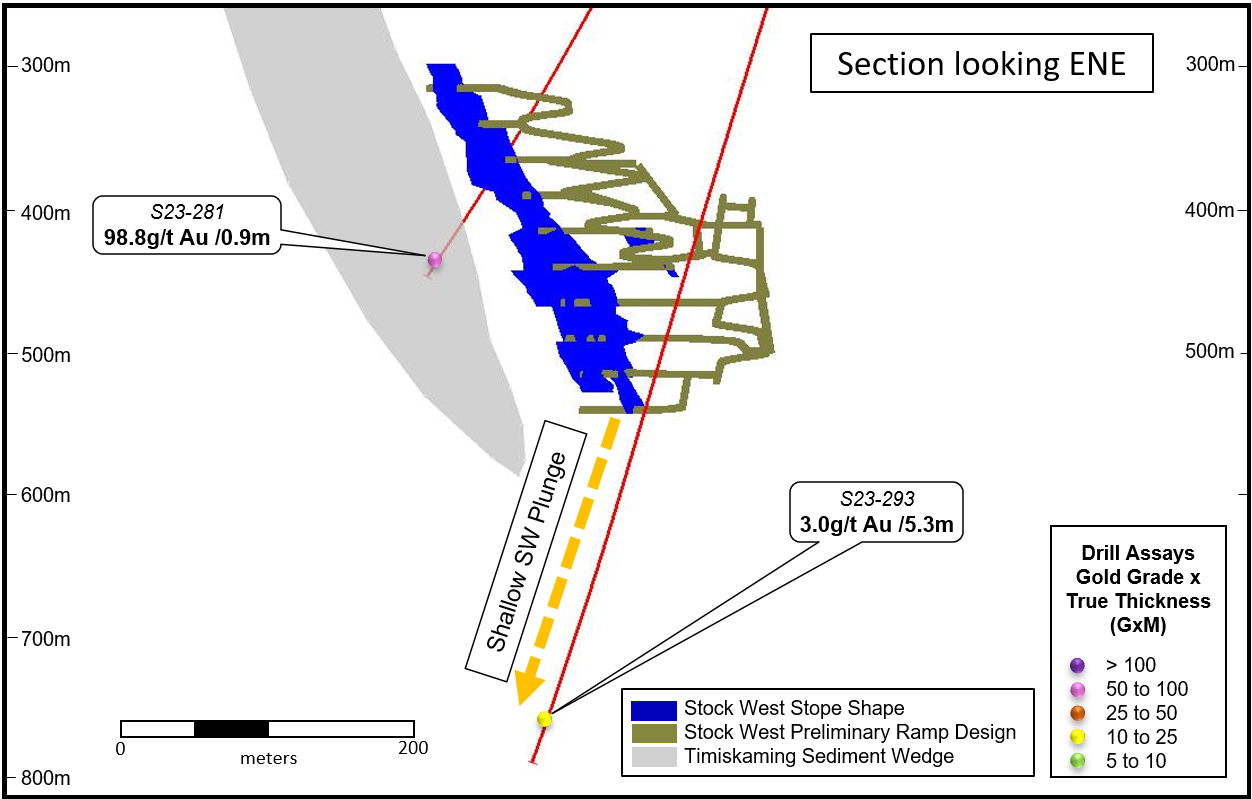 The first intriguing assay (see Figure 3) is located deep into the footwall of the Stock West resource within a Timiskaming-aged sedimentary wedge and returned 98.8 g/t Au over 0.9 m in drillhole S23-281. Because the orientation of the sedimentary wedge is well defined by more than 100 holes drilled since 2019 that were only selectively sampled based on visual cues, a staged resampling project is now warranted for these particular sediments. This result is significant because it now demonstrates the potential for narrow, high-grade gold values within a unit that was generally not considered to carry significant mineralization at the Stock property. Timiskaming-aged sediment is known to carry gold mineralization elsewhere in the Timmins camp, such as at Newmont's Pamour mine.
The second result (see Figure 3) is also located in the footwall of Stock West with drillhole S23-293 returning 3.0 g/t Au over 5.3 m approximately 250 meters down-dip and down-plunge from Stock West. This result is also important since it demonstrates that the mineralized system at Stock West is present well outside of the current resource model and continues deeper.
An updated mineral resource estimate for the Stock deposit is expected to be complete in Q4 of this year.
Table 1 – Latest Drill Results for Stock
Drillhole
From
(m)
To
(m)
True Width
(m)
Grade
(g/t Au)
Comment
Ramp Portal Zone
 
 
 
 
 
SM23-180
45.0
69.8
22.7
6.2
Incl. 4.2 g/t Au/ 10.8 m & Incl. 16.0 g/t Au/ 3.8 m
SM23-184
23.1
34.0
9.0
3.6
 
SM23-193
30.4
45.9
11.3
9.5
Incl. 12.5 g/t Au/ 8.3 m
And
57.1
82.3
18.0
5.0
Incl. 16.2 g/t Au/ 4.1 m
SM23-201
23.1
30.0
5.1
21.6
Incl. 45.4 g/t Au/ 1.5 m
SM23-204
34.1
53.2
12.4
12.0
Incl. 36.9 g/t Au/ 2.0 m & Incl. 26.7 g/t Au/ 2.0 m
And
60.0
62.4
1.7
8.4
 
SM23-CPS-09
60.5
73.0
10.9
12.5
Incl. 43.8 g/t Au/ 0.9 m
Shallow Plunge Zone
 
 
 
 
 
S23-291
636.8
649.9
9.6
3.8
 
S23-295
632.0
643.0
8.2
4.1
 
S23-298
563.1
577.4
9.5
3.1
 
S23-308
622.0
632.0
7.4
38.5
Incl. 407.0 g/t Au/ 0.7 m
And
654.0
664.1
7.5
3.2
 
S23-311
647.7
656.0
6.1
4.0
 
SM23-169
322.0
331.0
6.4
3.1
 
S23-309
567.0
586.8
14.7
4.0
 
S23-310
583.0
593.0
8.3
5.6
 
Steep Plunge Zone
 
 
 
 
 
S23-297
723.0
732.0
7.3
3.6
 
S23-306
804.9
833.2
24.3
2.6
 
SM22-108
572.6
590.4
14.5
3.3
 
SM23-175
125.8
132.6
5.8
3.1
 
SM23-191
540.6
553.9
11.2
8.7
Incl. 16.2 g/t Au/ 3.4 m
Intriguing Results
 
 
 
 
 
S23-281
508.6
509.6
0.9
98.8
 
S23-293
798.0
805.7
5.3
3.0
 
All results are estimated true widths. All grades presented are uncapped unless otherwise noted. The capping value used is 30 g/t Au.
Technical Information
Technical information pertaining to the Fox Complex exploration contained in this news release has been prepared under the supervision of Sean Farrell, P.Geo., Chief Exploration Geologist, who is a Qualified Person as defined by Canadian Securities Administrators National Instrument 43-101 "Standards of Disclosure for Mineral Projects."
Exploration drill core samples at the Stock Complex were typically submitted as 1/2 core or whole core. Analyses reported herein were either performed by the fire assay method by the accredited laboratory: Pangea Laboratorio in Sinaloa, Mexico which is owned and operated by an indirect subsidiary of the Company (NMX-EC-17025-IMNC-2018, ISO /IEC 17025:2017) or by the photon assay method by the laboratory: MSA Labs in Timmins, Ontario, Canada (following: ISO 9001 & ISO 10725; pending review in one year for formal accreditation). The drill holes SM23-180, SM23-184, SM23-193 & SM23-201, were submitted to the internal Black Fox assay lab and analyzed by the fire assay method.
For a list of drilling results at Stock since May 8, 2023, including hole location and alignment, click here:
https://www.mcewenmining.com/files/doc_news/archive/2023/2023_10Stock/StockProgramDrillIntercepts.xlsx
CAUTION CONCERNING FORWARD-LOOKING STATEMENTS
This news release contains certain forward-looking statements and information, including "forward-looking statements" within the meaning of the Private Securities Litigation Reform Act of 1995. The forward-looking statements and information expressed, as at the date of this news release, McEwen Mining Inc.'s (the "Company") estimates, forecasts, projections, expectations or beliefs as to future events and results. Forward-looking statements and information are necessarily based upon a number of estimates and assumptions that, while considered reasonable by management, are inherently subject to significant business, economic and competitive uncertainties, risks and contingencies, and there can be no assurance that such statements and information will prove to be accurate. Therefore, actual results and future events could differ materially from those anticipated in such statements and information. Risks and uncertainties that could cause results or future events to differ materially from current expectations expressed or implied by the forward-looking statements and information include, but are not limited to, effects of the COVID-19 pandemic, fluctuations in the market price of precious metals, mining industry risks, political, economic, social and security risks associated with foreign operations, the ability of the corporation to receive or receive in a timely manner permits or other approvals required in connection with operations, risks associated with the construction of mining operations and commencement of production and the projected costs thereof, risks related to litigation, the state of the capital markets, environmental risks and hazards, uncertainty as to calculation of mineral resources and reserves, and other risks. Readers should not place undue reliance on forward-looking statements or information included herein, which speak only as of the date hereof. The Company undertakes no obligation to reissue or update forward-looking statements or information as a result of new information or events after the date hereof except as may be required by law. See McEwen Mining's Annual Report on Form 10-K for the fiscal year ended December 31, 2022, and other filings with the Securities and Exchange Commission, under the caption "Risk Factors", for additional information on risks, uncertainties and other factors relating to the forward-looking statements and information regarding the Company. All forward-looking statements and information made in this news release are qualified by this cautionary statement.
The NYSE and TSX have not reviewed and do not accept responsibility for the adequacy or accuracy of the contents of this news release, which has been prepared by management of McEwen Mining Inc.
ABOUT MCEWEN MINING
McEwen Mining is a gold and silver producer with operations in Nevada, Canada, Mexico and Argentina. In addition, it owns approximately 52% of McEwen Copper which owns the large, advanced stage Los Azules copper project in Argentina. Rob McEwen, Chairman and Chief Owner, has a personal investment in the company of US$220 million. His annual salary is US$1.
Want News Fast?
Subscribe to our email list by clicking here:
https://www.mcewenmining.com/contact-us/#section=followUs 
and receive news as it happens!
Photos accompanying this announcement are available at
https://www.globenewswire.com/NewsRoom/AttachmentNg/0dbea784-8c76-4ce3-9e7b-9400e8f82d11
https://www.globenewswire.com/NewsRoom/AttachmentNg/b0d6a5c4-1669-4aa9-b409-405d499928b4
https://www.globenewswire.com/NewsRoom/AttachmentNg/1acf8b2e-2306-4205-8a28-05b7fca037ee