BOISE, Idaho, Nov. 15, 2023 (GLOBE NEWSWIRE) -- To understand the pulse of the Air Fryer community, Cathy Yoder, celebrated as the "The Real Air Fryer Queen" on her YouTube channel Empowered Cooks, conducted a comprehensive survey among her audience of nearly 650,000 subscribers. The survey, conducted by Empowered Cooks, Cathy's business, and gathered through Google Survey, drew a response of over 500 participants within Cathy's diverse audience demographic, ranging from empty nesters to a growing cohort of younger enthusiasts between their teens and mid-20s.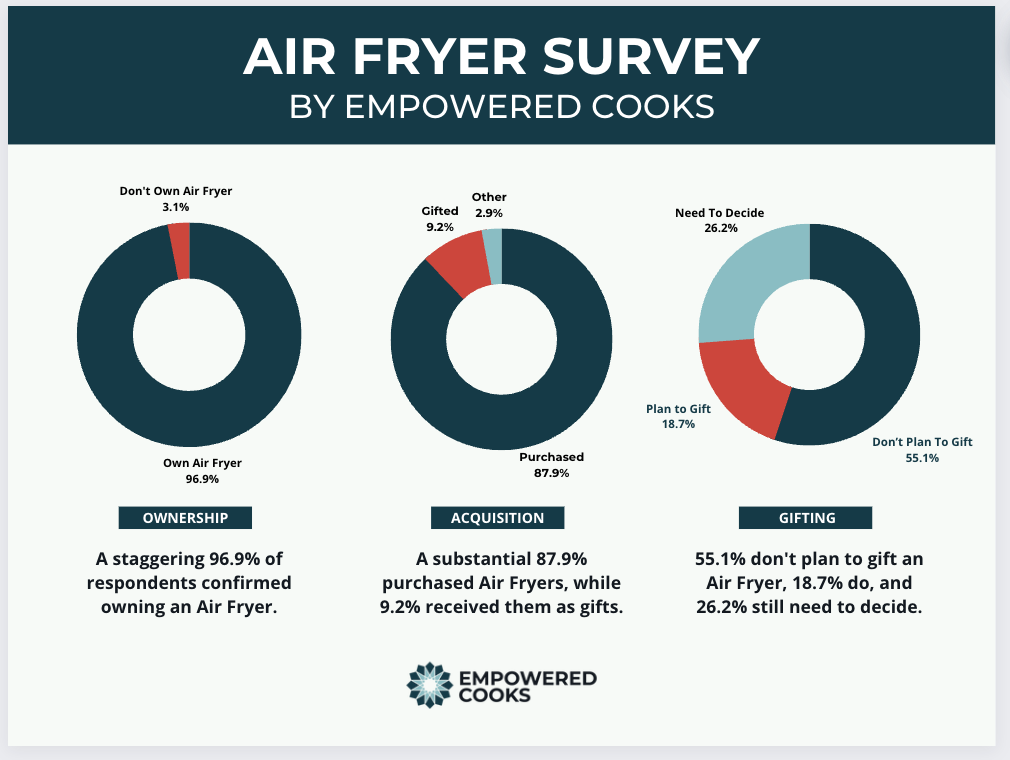 The survey encompassed six key questions, revealing intriguing insights into the habits and preferences of Air Fryer owners. These insights from Cathy's survey provide a closer look into the minds of Air Fryer enthusiasts, shedding light on their cooking patterns, preferences, and gifting inclinations this holiday season. Here are the main findings from this Air Fryer survey:
Ownership: A staggering 96.9% of respondents confirmed owning an Air Fryer.
Acquisition: A substantial 87.9% purchased their Air Fryers, while 9.2% received them as gifts.
Frequency of Use: The usage pattern varied, with 39.7% using the Air Fryer several times a week, 36% using it daily or almost daily, and 9.6% using it once a week.
Impact on Cooking Habits: The survey revealed that owning an Air Fryer led to faster and more efficient cooking for 67.8% of users, a shift towards healthier cooking for 44.5%, and increased culinary experimentation for 43%.
Holiday Gifting: 55.1% don't plan to gift an Air Fryer, while 18.7% do, and 26.2% still need to decide.
Preferred Brands: The Cosori Air Fryer was the top choice at 51.4%, followed by 8.1% choosing the Ninja Foodi Air Fryer.
Regarding the survey findings, Cathy expressed her delight at the engagement of her community and the widespread use of Air Fryers, emphasizing their popularity due to ease of use and kitchen safety. She remarked, "It's been amazing to get these Air Fryer survey results. The insights are opening up new ways for us to support our air fryer community. It's pretty cool to think that Air Fryers, once just a gadget for zapping frozen foods, have become a kitchen game-changer. We're here to keep bringing everyday cooks the best tips, recipes, and advice, whether they're just starting with an air fryer or have been experimenting with it for a while. It's awesome to be part of the journey with this fantastic kitchen innovation!"
About Cathy Yoder, "The Real Air Fryer Queen"
Cathy Yoder, known as "The Real Air Fryer Queen" on YouTube with almost 650,000 subscribers, embodies a dynamic blogger and seasoned entrepreneur. Despite her initial aversion to cooking, her genuine and relatable approach has earned her the endearing title. Cathy's YouTube channel showcases her culinary adventures with her children, aiming to empower air fryer enthusiasts beyond traditional recipes. Responding to her community's demands, she self-published a cookbook and has strategically diversified her income through product sales and affiliate partnerships, establishing herself as a trusted culinary resource while balancing her entrepreneurial pursuits with the joys and responsibilities of being a dedicated mother to eight children.
About Empowered Cooks
Founded in 2023 by Cathy Yoder and BJ Wright, Empowered Cooks is a multimedia platform guiding everyday cooks. Using YouTube and ClickFunnels, Cathy leads with BJ's support in business strategy. Their distinct method utilizes organic social media, diverging from traditional revenue models. The YouTube channel, Empowered Cooks, initially known as Fabulessly Frugal, boasts nearly 650,000 subscribers. Originating in 2020, the channel rebranded to become Empowered Cooks in 2023. At EmpoweredCooks.com, Cathy's "Air Fryer Recipes" cookbook, released in December 2021, has sold over 20,000 copies worldwide. Complemented by a transformative video course and interactive cooking sessions, they foster a community of empowered cooks. To learn more, visit www.empoweredcooks.com.
Media Contacts
Elena Lopez & Gabriela Rudolph
Jmac PR for Cathy Yoder, "The Real Air Fryer Queen"
ecooks@jmacpr.com
A photo accompanying this announcement is available at https://www.globenewswire.com/NewsRoom/AttachmentNg/805429f8-5caf-4d01-956f-da02ef7816c4