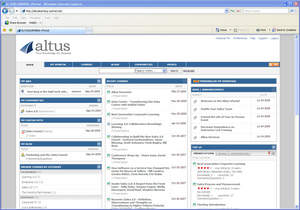 Altus vSearch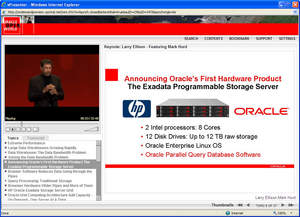 Oracle OpenWorld 2008 session content and accompanying presentation on the vSearch platform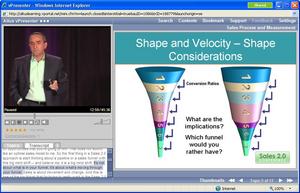 Altus vPresenter, part of the vSearch platform
CAMPBELL, CA--(Marketwire - October 6, 2009) - Altus Learning Systems, a leader in enterprise video solutions for sales enablement and corporate knowledge sharing, today announced version 6.0 of Altus vSearch™. Altus vSearch is a software platform that significantly improves sales force productivity by integrating recorded presentations from corporate events, internal meetings, web conferences and telepresence sessions into a single searchable portal. This rich media content is easily accessible anytime, from any location, and from any device. Altus vSearch is the only enterprise video-on-demand solution to offer verbatim transcripts of video content, searchable down to the spoken word. In addition to searching recorded video, version 6.0 includes the ability to search across user-generated content, blogs, personal profiles, communities, and documents. The cloud-based platform now supports a wide range of browsers (Explorer, Safari, Firefox and Chrome), and operating systems (Linux, Mac and Windows). A key new capability is Altus VirtualEvent™, an on-line solution for sales meetings, conferences and other events that integrates live webcasting, user interactivity, and full-text searchable video. With Altus VirtualEvent, companies now have a single platform for on-line sales meetings and events that includes both live and on-demand content distribution. Altus vSearch gives salespeople immediate access to the exact content they need to close deals more quickly. More than 250,000 users at industry leaders like Cisco, IBM, NetApp, Oracle, Symantec, and VMware have adopted Altus vSearch globally as a key tool for improving their performance. This announcement caps three consecutive years of strong company growth. With revenue growth of 142%, Altus recently announced its second appearance on the Inc. 5000 list of the fastest-growing, privately held U.S. companies. "The vSearch platform established Altus as a true innovator in enabling enterprises to use video to easily capture, share, find and leverage knowledge to accelerate the sales process," said Michael Gerard, Program Vice President, Sales Advisory Practice, IDC. "Now, with the introduction of vSearch 6.0 with VirtualEvent, Altus has elevated its technology to the next plateau, with the ability to seamlessly capture and integrate live events into an on-demand sales enablement portal for everyday usage after the event. Information that might otherwise be used just once becomes a living resource." Altus vSearch with VirtualEvent gives sales teams greater access to the information they need, decreasing the time-to-sale and increasing revenue. With version 6.0, companies can now:

--  capture and share expert sales content from web conferences, sales
    meetings, and other corporate events;
--  search rich-media presentations down to the spoken word and integrate
    user-generated content, blogs, discussions, and communities -- providing a
    single location for sales knowledge; and
--  go mobile by downloading MP3 audio and MP4 video to any mobile device
    and subscribing via iTunes, Outlook, and other RSS readers.
    
"When we need to find information on a specific technical topic or product discussed at a sales conference or training event, we can now use a quick search to find and download exactly what we need," said Jim Coleman, System Engineering Project Manager for storage and data management leader NetApp. "This is critical to our business because Sales sells what Sales knows, and Altus technology helps our sales channels quickly learn what they need to know." "We see strong ongoing demand for Altus vSearch as companies continue their relentless drive to improve sales force productivity, even as budgets have declined in the downturn," notes Altus CEO Ted Cocheu. This comment is echoed by IDC, which notes that even as corporate revenues have flattened and marketing investment has declined, investment in sales enablement has remained strong through 2009. Altus vSearch features support the principles of IDC's Sales Enablement 3.0 study, "A Transformation of Sales Enabled by a Transformation of Marketing," which provides guidelines to organizations as they seek to maximize the performance of their sales teams. Altus vSearch with VirtualEvent is available immediately. For more information, see http://www.altuslearning.com/products_vsearch.php or contact Altus at 408-355-9357. About Altus vSearch Altus vSearch enables companies to easily capture and share expert knowledge throughout the extended enterprise to reduce costs, increase productivity, and shorten time to revenue. Altus vSearch combines digitally recorded video with synchronized slides and scrolling transcripts, enabling users to find and watch mission-critical content just as it was presented by the experts. Every word spoken and all slide text become searchable data. By simply searching on topics of interest, busy sales people and other professionals can quickly find the exact knowledge they need to win business and maximize performance. About Altus Altus is a leading provider of video search and management solutions for sales enablement. Altus helps companies capture and deliver their valuable content via a turn-key, SaaS infrastructure and a global media delivery network. Organizations deploying Altus for sales enablement, training, collaboration, and knowledge sharing can now deliver critical knowledge to large, geographically-dispersed audiences, including employees, channel partners and customers. The Altus vSearch and VirtualEvent solution provides sales organizations the means to use searchable video content to improve sales productivity. Industry leaders like Cisco, IBM, GM, Oracle and NetApp rely on Altus to achieve outstanding ROI, substantial productivity and revenue gains, and millions of dollars of savings in reduced travel and training costs. More information is available at http://www.altuscorp.com. Altus Learning Systems, vSearch, and VirtualEvent are trademarks of Altus Learning Systems, Inc. All other trademarked terms used in this document are the properties of their respective owners.

Contact Information: Editorial Contacts: Tim Hughan Altus Learning Systems (408) 884-1480 thughan@altuscorp.com Larry Smalheiser Trainer Communications (925) 271-8211 altus@trainercomm.com