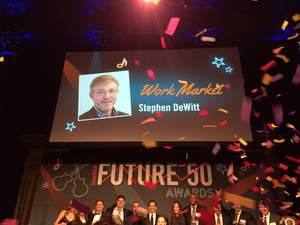 Work Market Celebrated at SmartCEO's New York Future 50 Awards Gala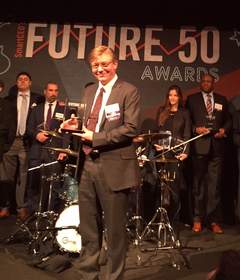 Work Market CEO Stephen DeWitt Accepts Future 50 Award
NEW YORK, NY--(Marketwired - Jan 29, 2016) - Work Market, the leading on-demand marketplace for enterprises and independent professionals, today announced that it has been named a 2016 New York Future 50 winner by SmartCEO magazine. The Future 50 award program recognizes 50 of New York's fastest-growing, mid-sized companies; the winners represent the future of the region's economy and embody the entrepreneurial spirit critical for leadership and success.
"Work Market was founded with a simple, yet ambitious vision -- to power the next-generation of engagement models between employers and workers," said Stephen DeWitt, CEO of Work Market. "Work Market is redefining a business-critical category in the workforce management space as the number of businesses seeking more flexible labor models continues to grow. We're thrilled to be named a SmartCEO Future 50 winner, and honored to be recognized alongside some of New York's most innovative businesses."
The rise of the on-demand economy, in which more independent professionals seek greater flexibility over how they work, is fundamentally disrupting a labor model that has historically been defined by static employer-employee relationships. This shift has also presented numerous challenges for organizations seeking to capitalize on this growing class of independent professionals; many businesses lack the tools, infrastructure and insights to build and scale a flexible workforce effectively and compliantly.
"We've been able to achieve tremendous growth by developing the definitive on-demand labor solution that radically simplifies how businesses attract, manage and empower their independent workforce," DeWitt added. "We're also working closely with enterprises looking for dramatic improvements in workforce productivity and the ability to leverage a mosaic of labor that's unique to their business."
DeWitt accepted this award at the New York Future 50 Awards Gala, held Wednesday, January 27, 2016 at Capitale in New York City. Additional information about the awards can be accessed at: http://smartceo.com/new-york-future-50/.
About Work Market
Work Market is the No. 1 on-demand marketplace for independent professionals. Work Market automatically matches independent professionals with top companies and work based on their skill sets. Independent professionals around the country rely on Work Market every day to connect to thousands of reliable and well-paying freelance assignments. Join the largest network of independent professionals on the planet at www.workmarket.com.