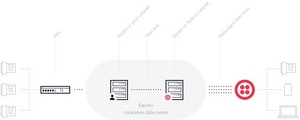 A diagram of one of the Twilio Interconnect options, "Cross-Connect," where an enterprise can establish a physical connection to Twilio in a data center.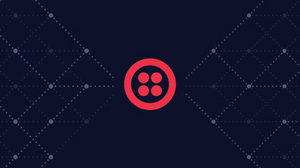 Twilio logo.
SAN FRANCISCO, CA--(Marketwired - Mar 7, 2016) - Twilio, the cloud communications platform for developers, today announced the launch of Twilio Interconnect, which enables private connectivity between Twilio and an enterprise's on-premise infrastructure and applications. With Twilio Interconnect, enterprises deploying communications in the cloud can meet the most stringent network requirements for controlling quality and security. To learn more about Twilio Interconnect, visit http://www.twilio.com/interconnect.
Businesses across multiple industries want to leverage cloud communications, but security and quality concerns with using the public Internet hold them back. Enterprises can now access Twilio through the following types of private connections:
Cross-Connect: A physical, high speed connection to Twilio that provides extremely low latency and is dedicated exclusively to your traffic
Multiprotocol Layer Switching (MPLS): A connection to Twilio through an existing private MPLS network, where the customer can manage packet prioritization for better call quality
Amazon Web Services on-net: A connection for customers already deployed on Amazon VPC, who can take advantage of the benefits of Twilio Interconnect at no additional cost
Virtual Private Network (VPN): A virtual point-to-point connection to Twilio through an IPSec tunnel that provides the functionality, security and management policies of a private network
"Twilio Interconnect allows us to provide network guarantees to our customers," said Joe McCorkle, Senior Director IT for RealPage Inc., a global CRM platform for property management managing operations for over 10 million rental units. "Our contact center is governed by industry regulations including PCI and HIPAA, so we're ecstatic about the opportunity to get a dedicated network connection to the Twilio cloud."
"Twilio Interconnect opens up the sophistication and network flexibility of the Twilio cloud to enterprises previously constrained from accessing the public Internet," said Patrick Malatack, Twilio VP of Product Management. "This is a huge step for enterprises looking to move away from costly, slow-to-adapt legacy infrastructure and adopt a more agile approach to building communications that meet today's customer demand."
About Twilio
Twilio's mission is to fuel the future of communications. Developers and businesses use Twilio to make communications relevant and contextual by embedding messaging, voice, and video capabilities directly into their software applications. Founded in 2008, Twilio is privately-held and has over 500 employees, with headquarters in San Francisco and other offices in Bogotá, Dublin, Hong Kong, London, Mountain View, Munich, New York City, Singapore, and Tallinn.
Contact Information:
Media Inquiries:
Twilio
Press@twilio.com