Santa Clara, July 12, 2023 (GLOBE NEWSWIRE) -- Santa Clara, California -
Tech is the fastest growing industry in the world, with FAANG [Facebook (now Meta Platforms), Amazon, Apple, Netflix and Google (now Alphabet)] jobs the most competitive out there. Interview Kickstart helps tech professionals build both technical and interview skills needed to land the highest paying jobs in the industry. Founded in 2014, the company has trained over 15,000 engineers since its inception. Those who complete the program leave with a mastery in core tech skills for their job, plus the interview prowess to get their dream job. For more information visit https://www.interviewkickstart.com/reviews.
"It's not enough to have the skills. You also have to be able to interview well, and talk about your capabilities in a convincing manner," says company founder Soham Mehta. Mehta, who was the Director of Engineering at Box, and has worked for Microsoft and other major players in tech, knows what it takes to get a job in the FAANG market. As Founder and Technical Interview Coach at Interview Kickstart, he helps students see the benefit and ROI from taking the course.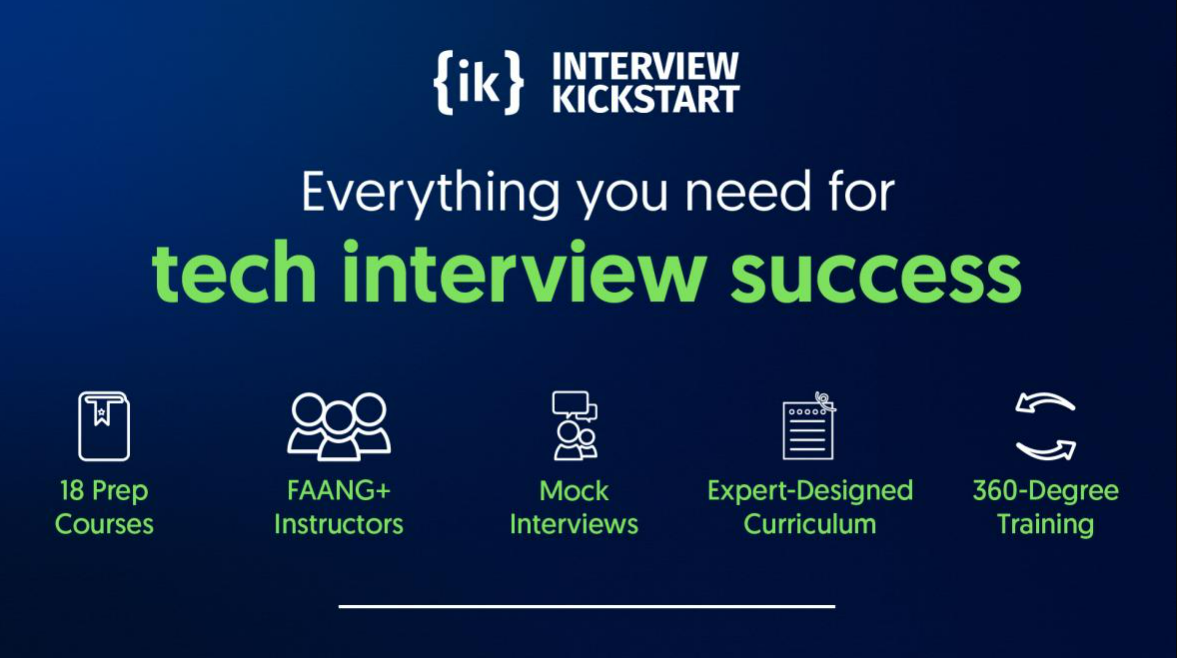 Offering 18 different courses on top tech jobs, Interview Kickstart is an intensive program led by industry experts. Fully remote, students can take classes during the week and on weekends. They get 1:1 mentorship, mock interviews to help build interview skills, best practices from FAANG industry experts, and training in core skills that they will be tested on in interviews. Courses are updated regularly, so students can ensure they're learning the latest and greatest in tech. Prospective students can watch a webinar to learn which course load is right for them.
The program boasts over 1,000 interview questions to study, a choice of 12-programming languages, on-demand timed tests, real time progress updates, an in-browser online judge, and more tools and resources to support students throughout their training. According to Mehta, this is the most comprehensive interview prep school any tech professional can get. For details visit the Interview Kickstart website.
"Most of our trainers have worked for FAANG companies, which means we all have first hand experience knowing what it takes to make it in these big name companies," says Mehta.
To get the best offer possible, the program also teaches students how to negotiate the best salary they can get. Skills like that are invaluable to engineers who know their worth. This helps build confidence and prove to employers that they are high quality candidates. Instead of coming to an interview hoping to get the job, Interview Kickstart students walk into interviews knowing they bring a lot to the table.
When deciding if it's worth the investment, student reviews on Google show that Interview Kickstart is worth every penny. Many of the students say they've received multiple job offers from FAANG companies, and that they are now working their dream jobs.
Jaime Luchaco, who got a job offer from Google after completing the course. He writes: "Thanks to Interview Kickstart, I was able to get an offer at Google! All of the instructors were extremely knowledgeable and willing to help. While I was preparing for my interviews, watching all of the foundational videos, classes, practice problems, and test questions really helped me. I was able to refresh my knowledge with these videos and refer to the class recordings whenever I had any (doubts). Even (now), while working at Google, I continue to look back at my notes and do the practice problems just to keep myself interview-ready at all times. Overall, this program was really well put together. It is what a lot of people in the industry need to use to maintain and refresh their skills. Kudos to Soham and the team for creating this great program."
https://youtu.be/Af4M6NPNIrQ
To learn more about the program, visit the Interview Kickstart website at https://www.interviewkickstart.com.
###
For more information about Interview Kickstart, contact the company here:

Interview Kickstart
Dashrath Rajpurohit
+1 415-888-9207
start@interviewkickstart.com
4701 Patrick Henry Dr Bldg 25, Santa Clara, CA 95054, United States