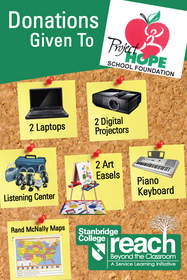 Stanbridge College donated School Supplies to Project Hope, a school for homeless children.
IRVINE, CA--(Marketwire - January 18, 2011) - Stanbridge College students and administration raised over $4,800 to benefit Project HOPE, a non-profit school for homeless children in Orange County. The funds generated were used to purchase items that would improve the classroom learning experience for every student there. Donated items included: two instructor laptops, digital projectors, tech carts, art easels, and bulletin boards; a US & World Pull-Down Maps, a piano keyboard, and a 6-person listening center.
Project HOPE was nominated as the beneficiary for Stanbridge College's service learning project by nursing student Summer Slim. "The children attending this school are dealing with some extremely difficult situations and anything we can do to help would be extremely valuable," says Summer. Yasith Weerasuriya, President of Stanbridge College, rallied behind the nomination: "As an institution that places great value on community outreach, we are happy to support the initiatives of Project HOPE."
"We truly appreciate Stanbridge College's support and are grateful for the classroom donations that will help educate our students," says Pam Alison, Executive Director of Project HOPE. Stanbridge College would like to continue the partnership and is looking forward to future service projects & events with Project HOPE.
About Stanbridge College
Irvine, California based Stanbridge College is a co-educational technical college with an annual enrollment of over 600 students. Founded in 1996, Stanbridge is nationally accredited by the Accrediting Commission for Career Schools and Colleges, ACCSC, and offers Diploma, Associate and Bachelor of Science degree programs in Vocational Nursing, Information Technology and Accounting.
Stanbridge College has been recognized as one of America's Best Technical Colleges by Institutional Research & Evaluation, Inc., and is a 2008-2009 ACCSC School of Excellence Award Recipient from the Accrediting Commission of Career Schools & Colleges (ACCSC). Stanbridge College has also been named to the 2009 President's Higher Education Community Service Honor Roll, the highest federal recognition a college or university can receive for its commitment to volunteering, service-learning and civic engagement. Stanbridge College has maintained one of the highest continuous pass rates in California since 2007 on the NCLEX national nursing board exam with a 99% cumulative pass rate for 2009.
About The Project HOPE School
The Project HOPE School is a non-profit, public, alternative education program created to help children without permanent homes transition into the mainstream educational system. The Project HOPE School offers instruction in small, multi-grade classrooms, educational resources, and transportation to and from motels and shelters to disadvantaged kids around Orange County.
Contact Information:
CONTACT:
Tori Hansen
Media and Communications Officer
949-794-9090