NEW YORK, Sept. 27, 2023 (GLOBE NEWSWIRE) -- Tomorrow, Fanatics Betting and Gaming, a subsidiary of Fanatics Holdings Inc, a global digital sports platform, will launch the most rewarding online sportsbook in the Commonwealth of Kentucky. Beginning at 6 a.m. ET, sports fans living in and visiting Kentucky will be able to download the Fanatics Sportsbook on iOS and Android and begin their Fanatics experience.

"At the Fanatics Sportsbook, customers can bet on the sports they love and be rewarded with up to 5% back in FanCash on every wager they make, win or lose," said Scot McClintic, Chief Product Officer for Fanatics Betting and Gaming. "We are launching in Kentucky with our signature jersey drop promotion where new customers can sign up and suit up with a fresh jersey from any team and any sport from Fanatics.com."
Beginning tomorrow, customers in Kentucky who are 21+ will be able to sign up for the Fanatics Sportsbook and place wagers across the state on professional and college football, basketball, baseball, hockey, golf, MMA, boxing, soccer and tennis with a variety of betting and payment options available.
New customers can get themselves a new jersey for signing up and placing a qualifying wager on Fanatics Sportsbook. Customers need to simply place a single cash wager of $50 or more on any market (minimum -500 odds) and receive a reward credit to purchase any merchandise from a sports team worth up to $150 on Fanatics.com. Qualifying wager must be placed between 9 a.m. ET on September 28 and 11:59 p.m. ET on October 3 to be eligible. The Fanatics Jersey Drop special offer is limited to one reward credit per customer, and the credit will be distributed to the customer via email from Fanatics.com within 72 hours of qualifying wager settlement and will expire within 5 days of receipt. Any wager settled using the cash out feature will not be deemed a qualifying wager.
The Fanatics Sportsbook offers customers up to 5% back in FanCash on bets and is poised to disrupt the sports betting industry by offering the following exciting new features:
Building a better sportsbook: The Fanatics Sportsbook app was built natively on iOS and Android. The design, speed and quality of the navigation experience rival the sports betting apps in the market today that were not built specifically for iOS and Android. Building natively allows the Fanatics Sportsbook to perform over time at a level consistent with other technology-first companies.
The most rewarding sportsbook: It's all thanks to FanCash - The Currency of Sport™. FanCash, the backbone of the Fanatics loyalty program, can be converted dollar-for-dollar into Bonus Bets and can also be used to purchase your favorite team merchandise at Fanatics.com.

Earn 5% FanCash on Same Game Parlay (SGP) bets.
Earn 3% FanCash on parlay bets.
Earn 1% FanCash on straight bets and odds boosts.

From curated to a more personalized experience: Customers know what they want to bet on, and a sportsbook should know it too. Introducing the Fanatics Sportsbook Discover page with marquee games, trending bets, promos, and the rewards you want most. Customers will not have to scroll for long periods of time to place a bet on their favorite team or sport. In the near future, the Discover page will be personalized to the customer's favorite teams, sports and markets.
Transparent: If you can track your pizza, you should be able to track your money. Know where your money is with our Withdrawal Tracker so you can relax and enjoy the game.
Search: Search easily for the bet you want and bet directly from the results. The Fanatics Sportsbook offers industry-leading search functionality, including a search bar, recent searches, autocomplete, synonym/alias and deep linking to leagues, events and markets.
Live streaming: The Fanatics Sportsbook, in partnership with Genius Sports Limited, was one of the first legal sportsbooks to launch BetVision, a first-of-its-kind live sports betting product that enables customers to place bets while live streaming select professional football games in the sportsbook app.

The Fanatics Sportsbook is making a profound commitment to the customer with a world-class Help Center, chat experience and knowledgeable agents with 24/7 coverage. Customers will also have access to Responsible Gaming tools along with some new innovations that will be rolled out this fall so customers can analyze and manage their time and money.
To download images and videos of the Fanatics Sportsbook, visit the Fanatics Media Center and for more news and information, follow us on the Fanatics Sportsbook social channels on X @fanaticsbook and on Instagram @fanaticssportsbook.
Gambling Problem? Call 1-800-GAMBLER
About Fanatics Betting and Gaming
Launched in 2021, Fanatics Betting and Gaming is the online and retail sports betting subsidiary of Fanatics Holdings Inc., a global digital sports platform. Fanatics Betting and Gaming operates in 12 states for legal sports betting, four states for online gaming and 42 states for horse racing (ADW). The Fanatics Sportsbook is the most rewarding online sportsbook with up to 5% back in FanCash on every bet. The Fanatics Sportsbook makes being a fan easy with fast signup, easy betting, transparent withdrawals, live streaming, industry leading search functionality and a curated Discover page with the sports and bets that matter most to a customer. Fanatics Betting & Gaming's acquisition of PointsBet is pending regulatory approval in Illinois, Indiana, New York and Michigan. In Ohio and Louisiana, PointsBet will continue to operate independently. Fanatics Betting and Gaming is headquartered in New York.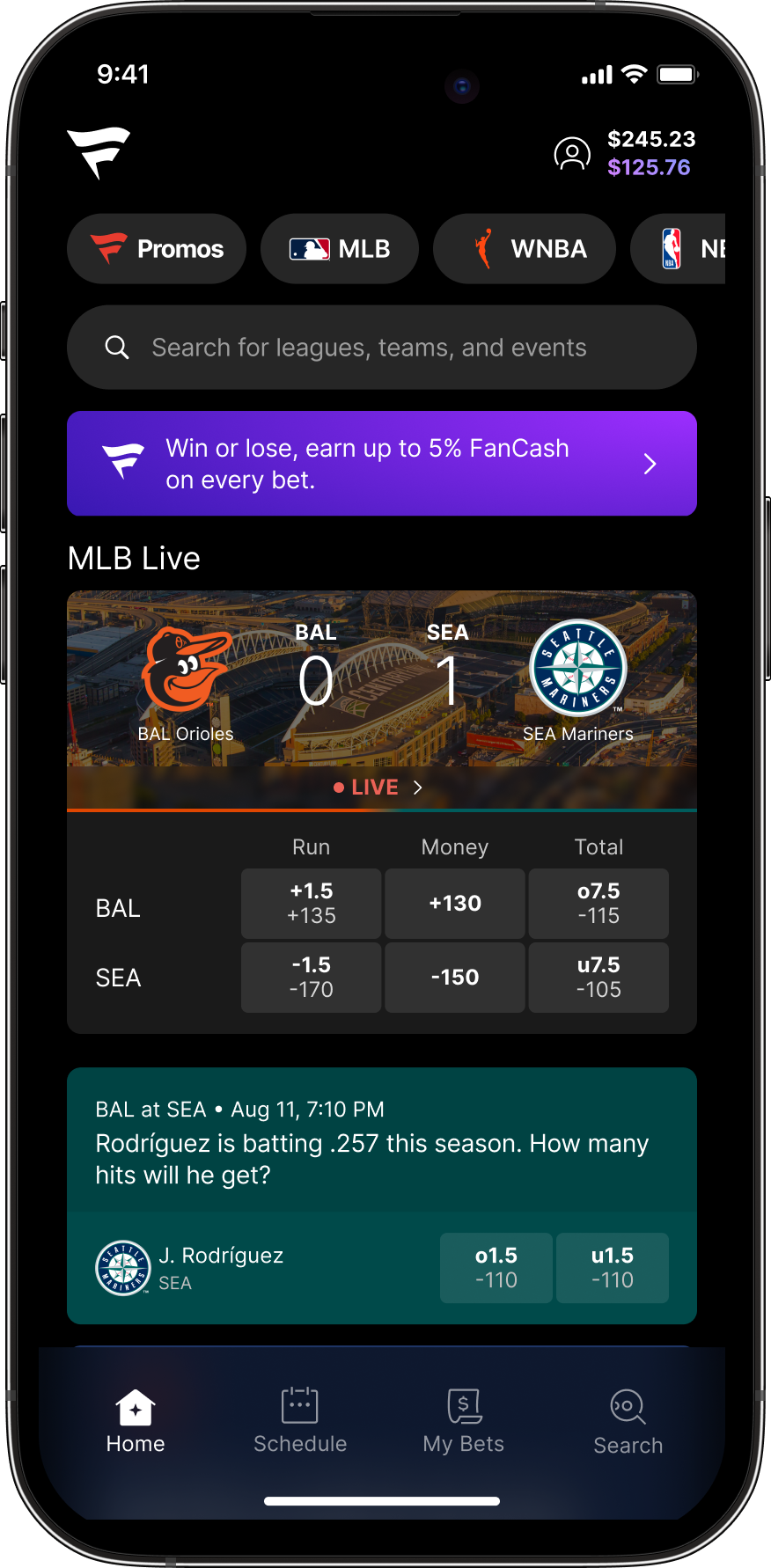 A photo accompanying this announcement is available at https://www.globenewswire.com/NewsRoom/AttachmentNg/3eb40e3d-1d22-44b6-997f-d5de4ae852a1